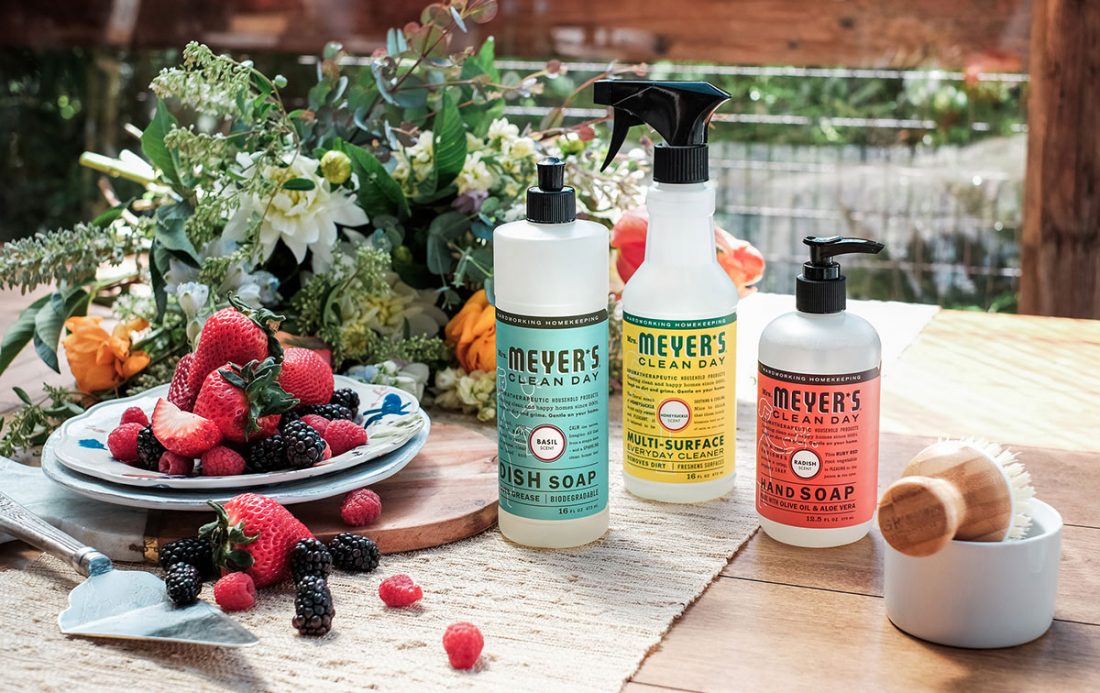 Lately I've been trying to simplify my kitchen routine, from planning to shopping to cooking. Spring means I want to eat more fresh food, so my freezer to slow cooker winter routine will be displaced by something different. I'll share more about that next week, but today I want to tell you about one thing that makes my life easier in terms of clean up: Grove Collaborative.
Grove is a subscription service that delivers natural cleaning, home, beauty, and baby products right to your doorstep, on your schedule. It's like having a brilliant personal assistant who keeps your home stocked up on the essentials while you relax and focus on get busy on the other things on your to-do list!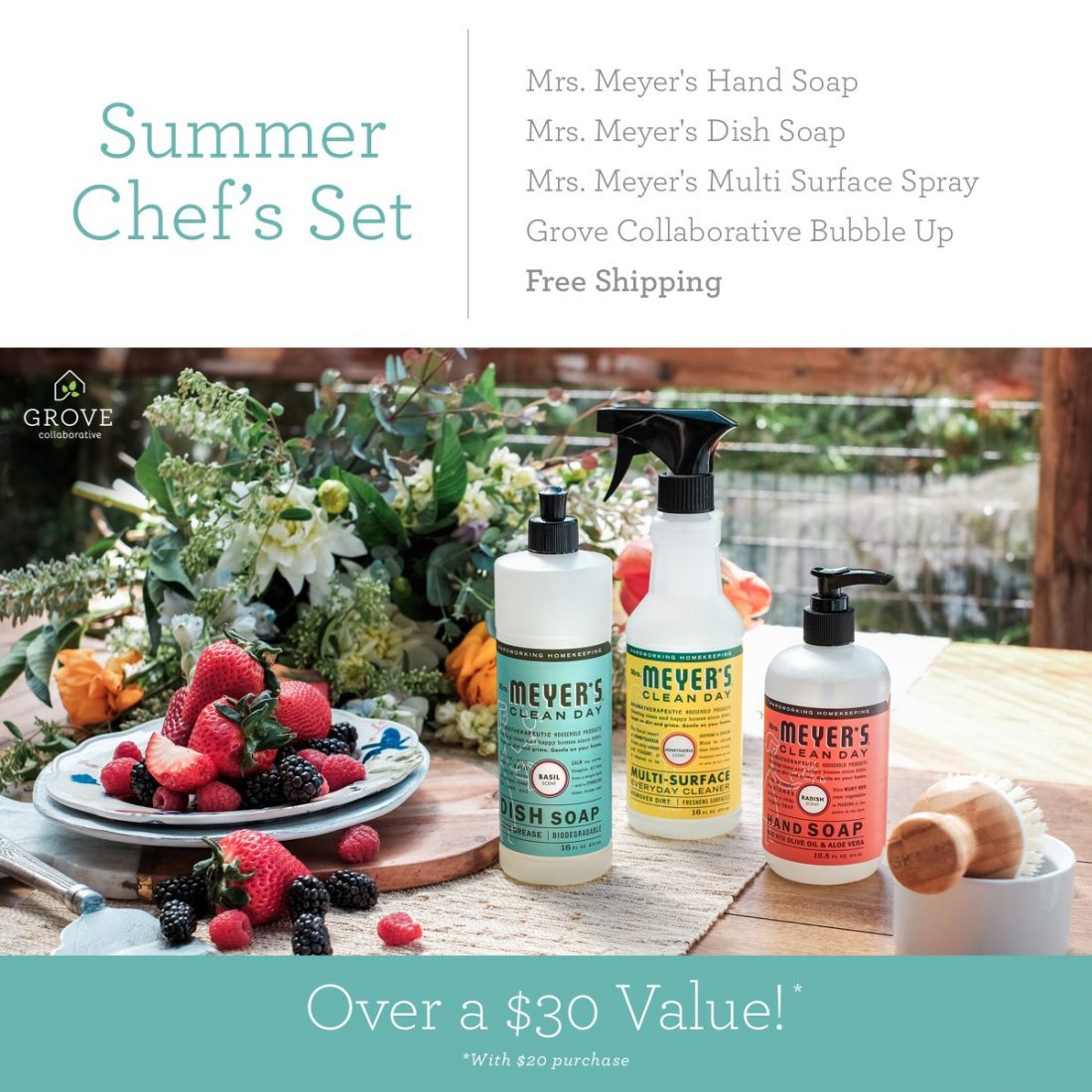 When you sign up for Grove right now, you'll get this Summer Chef's set FREE with your first order of $20. Here's whats included:
Free Mrs. Meyer's Hand Soap
Free Mrs. Meyer's Dish Soap
Free Mrs. Meyer's Multi-Surface Spray
Free Grove Collaborative Bubble Up
Free Shipping & 60 Day VIP Trial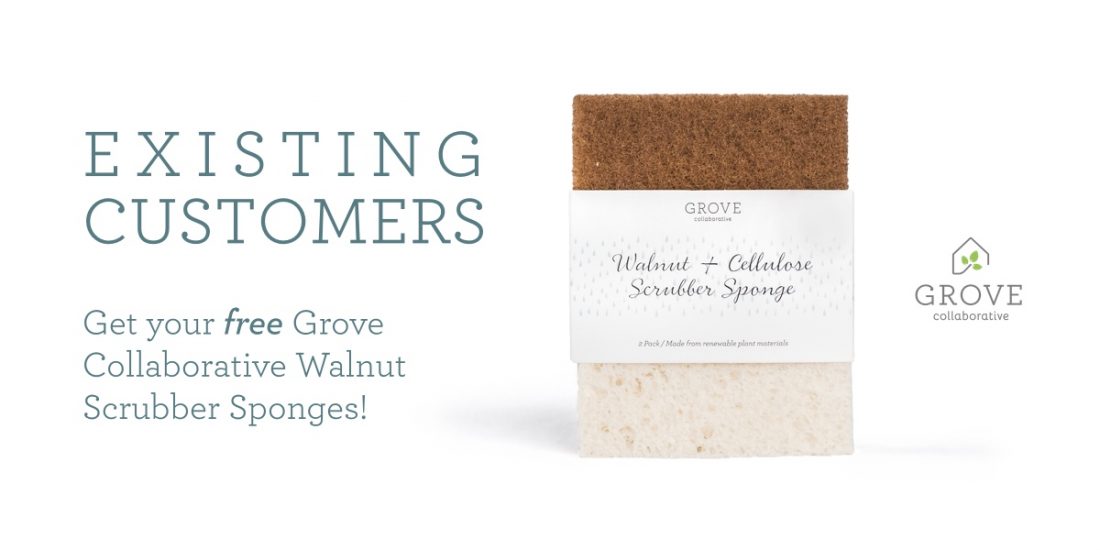 (If you're already a subscriber, you'll get a free set of Grove Walnut Scrubber Sponges.)
The set is everything you need to make summer cleanup easy and enjoyable. Since you can choose your scents for the free Mrs. Meyer's dish soap, hand soap, and multi-surface spray, you can create a matching set or mix-and-match your favorites. I've been using the basil scent, and I love how it smells like a summer herb garden. I keep the dish soap and spray right in the cupboard underneath the kitchen sink so I can have it out of sight yet ready to go when I need it.
I also adore this Grove Collaborative Bubble Up, which is a spring-loaded soap dish and scrub brush. It looks cute on my counter, and it's such a convenient way to tackle kitchen messes.
After all, that's what Grove Collaborative is all about: making creating a healthy, beautiful home effortless and affordable. I've been using Grove for more than a year now, and I still look forward to my monthly shipment. Some months it's only a couple of items, other times I have more to add. It's super simple to customize!
Treat yourself to this FREE Summer Chef's set and give Grove Collaborative a try — I promise you'll never go back! As a bonus, you'll be signed up for the free 60 day VIP trial when you place your order. That means free shipping, free gifts, price matching, and personal service.
Here's how it works:
Sign up for Grove Collaborative here [note this is an affiliate link, so I receive a small commission when you place your order. Thanks for your support!] You will receive the Summer Chef's Set for free when you sign up!
To receive this offer, your order needs to be a minimum of $20. Choose the combination of products and scents you love and receive your first box within a few days.
You made it! Click Finish & Pay and place your order.