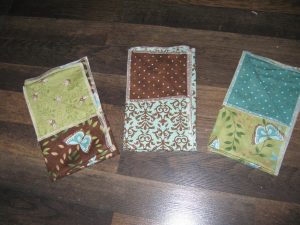 I've fallen in love with fabric napkins. It makes eating in front of the TV on trays so much klassier. I bought a set for myself for Christmas and they always seem to be in the laundry. So I decided to try to make some.
I headed out to the fabric store and was smitten with the Moda fat quarters. Now, a fat quarter is a precut square about 18″x22″. I wasn't sure what size my napkins at home were, but I figured if they are already square I wouldn't have to do any extra cutting.
I threw them in the laundry and when they came out I ironed them and placed two together, with the printed sides facing out. Then I just serged away! The ones with the dotted print on one side turned out more square as that made an easy cut/serge line.
They turned out cute if I do say so myself. The serged edge stands out as I only have off white thread, but I think with the patterns I chose it adds a bit of homespun charm.
They are big enough to be used as a placemat, too!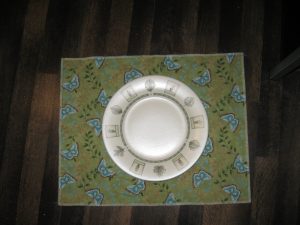 Since the fat quarters were something like $2.50 each, I'm not sure I saved any money, but it is a great way to use up your stash and create something unique.
This post linked to Make it for Monday
and Tip Junkie's Tip Me Tuesday