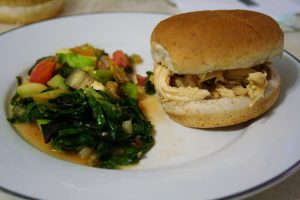 Collective Bias sent me on a mission to try out the new Knorr Homestyle Stock. The result? A pulled chicken sandwich in no time at all!
First, I checked out the Knorr website to find a recipe that used the stock. I ended up using the Savory Pulled Rotisserie Chicken Sandwiches recipe.
Then, I went to WalMart to get the stock (Collective Bias has this thing about us getting our items from there, no idea why). It was a bit confusing to find, since it wasn't in the soup aisle but was in a special endcap. Oh well, at least they had it! The only other items I didn't have on hand were the buns and rotisserie chicken, and since my WalMart doesn't have rotisserie I stopped at Family Fare.
I was sort of intrigued about the little tubs of stock. I have no idea what's in it, but it acts as sort of a thickener, and adds a really nice flavor. I'm wondering what the "natural" equivalent would be . . .
Anyway, here's the recipe (with my modifications/suggestions:
Ingredients:
1 Tbsp oil
1/4 C finely chopped shallots or sweet onion (I used a shallot plus a bit of green pepper I had laying around)
1 clove garlic, minced (I used two–you can never have enough garlic!)
1 pot Knorr Homestyle Stock Chicken
1/4 C ketchup
2 Tbsp firmly packed brown sugar
2 Tbsp apple cider vinegar
4 C rotisserie chicken, shredded
8 hamburger buns, if desired
Directions:
1. Heat oil in large nonstick skillet over medium-high heat and cook onion, stirring occasionally, 2 minutes or until onion is tender. Stir in garlic and cook 30 seconds.
2. Stir in water, Knorr® Homestyle Stock Chicken, ketchup, brown sugar and vinegar. Bring to a boil over high heat. Reduce heat to low and simmer, stirring occasionally, 5 minutes.
3. Stir in chicken and heat through.
The Verdict: I served this on whole wheat buns, alongside a quick vegetable stir fry. It was REALLY good. I'm still not sure what exactly the pot of stock is, and would like to do some research, but it added a great flavor and helped keep the chicken from drying out.
If you'd like to see more photos, you can view This Moment
This project has been compensated as part of a social shopper insights study for #collectivebias