Well folks, believe it or not, this recipe is NOT from Simply in Season. I'm taking a break from my regularly scheduled cookbook in order to provide an original recipe to my blogger friend FJ–check out his Fitness Blog.
"I have a few people I work with that are vegetarian and they have a tough time meeting the 1g per lbs of body weight protein requirement unless they rely heavily on protein shakes. So I figured if there was anyone that could come up with something, it would be you.

I know that soy beans, lentils, kidney beans, legumes & sweet potatoes are some of the top sources as far as vegetables are concerned but when it comes to putting a few of those ingredients… and coming up with something my tastebuds can get buck wild about, I'm not that creative.

So, what do ya think? Can you conjure something up?"
Of course! I'm super into sweet potatoes, as they are in season right now, and, acc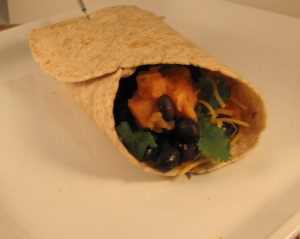 ording to Johnny Bowden's book 150 Healthiest Foods on Earth, they are rich in antioxidants, Vitamin A, potassium, and are anti-inflammatory.
"Back in the days when I spent more hours in the gym than I want to think about, I used to bake a week's worth of them in advance, wrap them individually, put them in the fridge, and take them with me along with some grilled chicken for an after-workout snack," says Bowden.
I decided to add some black beans and cheese for protein, cilantro, salsa, and lime for flavor, and wrap it all up in a low carb tortilla. Even though it's vegetarian, it earned the DH stamp of approval.
The best part? It's only 200 calories a serving and includes 12 grams of protein.
Sweet Potato & Black Bean Wraps
4 servings
Ingredients: 1 can black beans, drained and rinsed; 2 C sweet potatoes (cooked and peeled and chopped)); 1 lime; 1/4 C cilantro (chopped); 1 C salsa; 1 C shredded cheese; 4 tortilla wraps.
Directions: Warm the black beans and sweet potatoes in the microwave (you can actually cook the sweet potatoes in the microwave if you pierce them with a fork and nuke for about 7 minutes). On a tortilla shell, place 1/4 C black beans, 1/2 chopped  sweet potato, and 1/4 C shredded cheese. Sprinkle with 1 T cilantro, squeeze the lime over top, and add salsa as desired.