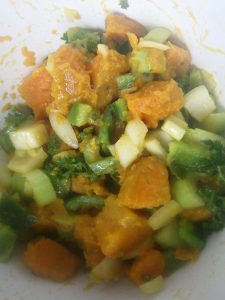 This is an interesting salad recipe from Simply in Season
. I wasn't quite sure what to expect, as I have never had a sweet potato salad before.
It was easy enough to throw together, although I think I overcooked the sweet potatoes.
The recipe:
3 cups sweet potatoes (cooked, peeled, and diced)
1 cup celery (diced)
3/4 cup green bell pepper — chopped
1/2 cup onion chopped
2 Tbs Parsley — chopped
3 Green Onions (scallions), sliced (optional)
1/2 cup cider vinegar
2 Tbs oil
1 1/2 Tbs mustard
1 Tbs honey
1. Combine all the vegetables in a large bowl.
2. Mix the vinegar, oil, mustard, and honey together and pour over the vegetables, tossing until well coated. Sprinkle with shredded cheese if desired.
Servings: 6
The verdict: It was just OK. It would have been better if the sweet potatoes had been a little toothier. I did like the dressing, the cilantro and the vegetables in it. Will I make it again? Probably not.
Nutrition Facts
Serving size: 1/6 of a recipe (6.8 ounces).
Percent daily values based on the Reference Daily Intake (RDI) for a 2000 calorie diet.
Nutrition information calculated from recipe ingredients.
Amount Per Serving
Calories 162.43
Calories From Fat (27%) 43.24
% Daily Value
Total Fat 4.91g 8%
Saturated Fat 0.69g 3%
Cholesterol 0mg 0%
Sodium 100.63mg 4%
Potassium 629.44mg 18%
Total Carbohydrates 27.34g 9%
Fiber 4.54g 18%
Sugar 11.04g
Protein 2.82g 6%