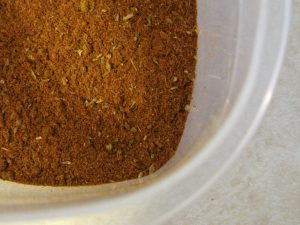 Taco Seasoning is something that is super easy to make yourself. It's cheaper than store-bought, you don't have to remember to keep it on hand, and you know exactly what's in it and how to pronounce all the ingredients.
Isn't that true for so many things? Like dressing, for example. Or pancakes. Which reminds me of a funny thing that happened right after I got married.
DH and I slept in one Saturday morning, and I said to him, "don't pancakes sound good? I think I'll go make some."
"But I don't think we have any pancake mix," he said.
I simply laughed and pulled out my Joy of Cooking. In no time I had recruited him to cook the pancakes while I browned the sausage that I had picked up at the farmer's market. (If you live in Michigan, I highly recommend Creswick sausage and brats. Plus their website is kind of fun. It moos. Oh, and if you're wondering why I had DH cook the pancakes, check out my Cornmeal Wheat Pancakes post.)
But back to the tacos. Here is the recipe from Simply in Season:
1/4 C chili powder, 3 T cumin, 2 T oregano, 2 T coriander, 1 T garlic powder, and 1/2 tsp ground red pepper. To make the taco filling, add 2-3 T of seasoning plus 1/2 C water and salt to taste for each pound of ground beef or venison or cooked beans.
Serving suggestion:
The verdict: Two thumbs up. DH ate several of these. They were nice and spicy without being overwhelming, and the oregano and coriander provided a nice balance so that you didn't just taste cumin. Way better than the packets!
This post linked to Kitchen Tip Tuesdays, Madame Deals,  Real Food Wednesdays,and Works for Me Wednesday