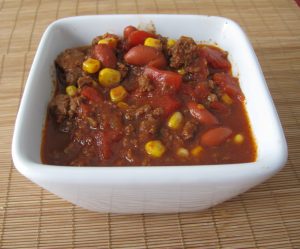 Here's another quick, inexpensive recipe from Simply in Season. "Easy to double or triple to serve a crowd; cornbread is a natural accompaniment."
It's times like this I wish I had a Le Creuset (hint hint – Christmas list). But I don't, so I browned a pound of ground venison and a chopped medium onion in a regular ol' stock pan. Then I added 3 cups of tomato juice and two cans of diced tomatoes. The recipe actually calls for 6 C of tomato juice, but I didn't have that much left and decided to improvise.
I also added a can of corn and 2 cans of kidney beans, 3 T chili powder, and 1 T sugar. The directions say to bring it to a boil and then let it simmer for 10 minutes; alternatively, you can make this in a crockpot. I brought it to a boil and then let it simmer for about half an hour while I waited for DH to come home with the kidney beans that I forgot to pick up earlier in the week. (am I the only one who does this?)
You can serve it over corn chips with sour cream and, of course, cheese! We used regular old crackers but definitely added cheese.
The verdict: Because I used diced tomatoes instead of the full amount of juice, DH thought it was chili and not soup. Then again, what IS the definition of soup vs. chili? Regardless, it was delicious and had just the right amount of spice. If you like your food a little less spicy, you will want to use less chili powder, but DH and I love lots of heat and flavor.