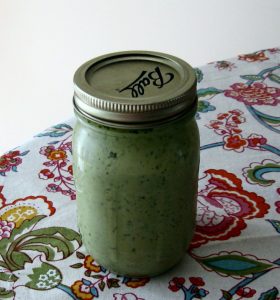 Spring greens can sometimes be strong in flavor, at least for those of us used to good old iceberg. When a friend on our CSA Yahoo Group suggested this dressing from Chef Andrea Beaman, I thought I'd give it a try. As a bonus it uses up lots of parsley and green onions, both of which we have an abundance of in the spring.
Tahini Dressing
1/3 cup sesame tahini
3 Tbs.  soy sauce
3 Tbs. vinegar
1/2 bunch parsley, chopped
1/2 bunch scallions, chopped
1 cup water
Blend all ingredients in the food processor or blender. You can use this as a dressing or stir fry sauce.
The Verdict: I like this dressing–it's not your typical ranch or vinaigrette. My husband also liked it, as did my friend. Her husband, however, thought it tasted like weeds.
This post linked to Real Food Wednesday and Why Local Wednesday