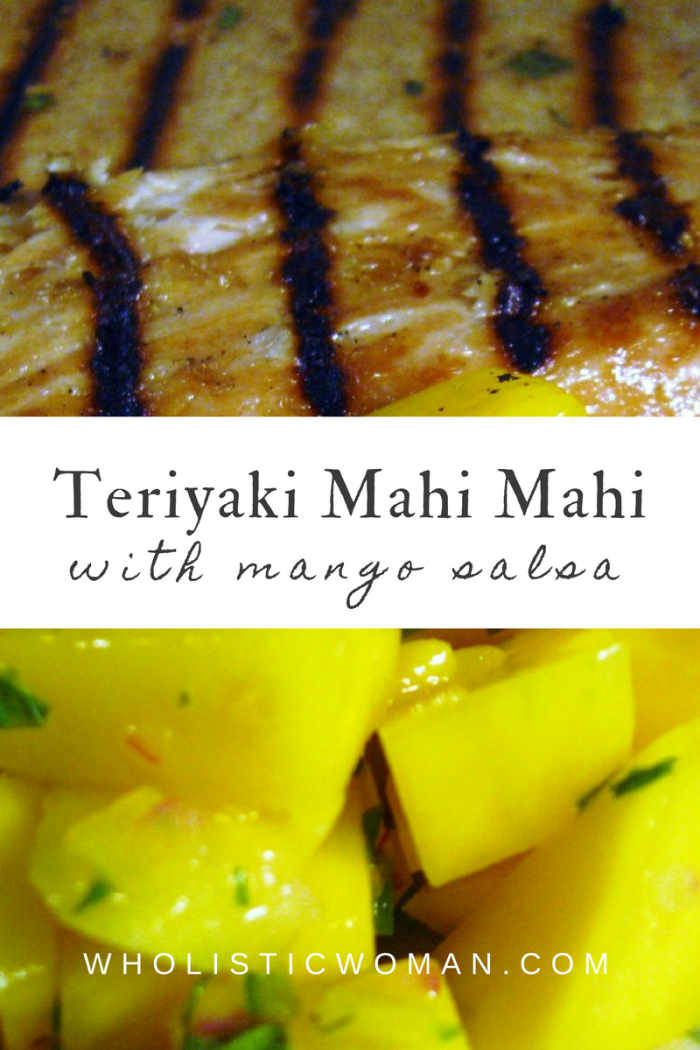 This week's Sunday Supper theme is Best Seafood Recipes, so I knew I had to share one of my all-time favorites: Teriyaki Mahi Mahi with Mango Salsa.
Confession: I have never actually made this recipe. It is from Weber's Big Book of Grilling, now out of print. HOWEVER, this is one of DH's go-to recipes and I have EATEN it several times! It always gets rave reviews. Have I mentioned how great of a cook DH is?
Source: Weber's Big Book of Grilling (now out of print I think)
Course: Main Course
Main Ingredient: Fish
Ingredients
4

mahi mahi fillets (about 6 oz each and 1 inch thick)
For the Salsa:

1 large

ripe mango
1?4 cup red onion (finely chopped)

1 Tbs

oil

1 Tbs

fresh lime juice

1 Tbs

mint (finely chopped)

1 tsp

jalapeno pepper (minced with seeds)
1?4 tsp salt
For the Marinade:
1?4 cup soy sauce
1?4 cup sake (sweet)

1 Tbs

oil

1 Tbs

brown sugar

1 tsp

fresh ginger (grated)

1 tsp

garlic (minced)
Directions
Peel mango and dice to 1/4 inch thick squares; mix with remaining salsa ingredients and refrigerate until ready to serve.
In a small bowl, whisk together the marinade ingredients.
Place the marinade and fish fillets in a large plastic bag, press out the air, turn the bag to coat somewhat evenly, and refrigerate for 20-30 minutes.
Remove fillets, discard remaining marinade, spray each side of the fillet with oil, and grill over direct high heat until it's opaque throughout, 8-10 minutes, turning once halfway through the grilling time.
Serve the fish warm, topped with the salsa.
Powered by


The Verdict: Do you even have to ask? The mango salsa perfectly complements the marinated mahi mahi, which is the best fish in the world, although I've had trouble figuring out if it's sustainably raised or not. Sometimes, you just have to splurge.
HD Security 403 Error – Access Denied