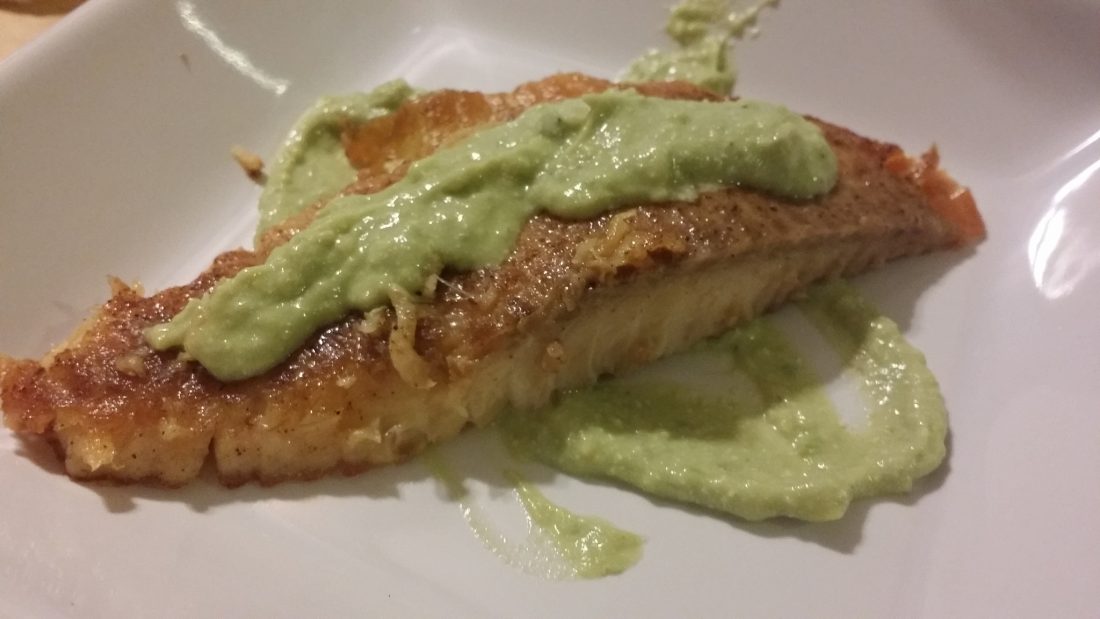 We are finally eating real food! It's so exciting I can't even describe it. For our first meal after surgery, DH made Tilapia with Avocado Aioli. It went together super fast and was delicious. I think this will become a staple for us.
Source: bariatriceating.com
Ingredients:
Four, 5-ounce tilapia filets
1/2 teaspoon garlic powder
1/2 teaspoon ground cumin
1 tablespoon chili powder
Kosher salt and freshly ground black pepper
2 tablespoons Greek yogurt or reduced fat mayonnaise (we ended up using ricotta since we were out of yogurt)
3 garlic cloves, chopped
Juice of one lime, about 2 tablespoons
1 medium ripe Hass avocado, peeled with seed removed
Low-sodium chicken broth
Hot sauce (optional)
Directions:
Rinse the fish fillets with cold water and pat dry with paper towels.
In a small bowl, combine the garlic powder, cumin, chili powder, and ½ teaspoon salt
Sprinkle some of the mixture on both sides of each filet.
In a food processor, puree the mayonnaise, garlic, lime juice and avocado until smooth. May need to add chicken broth to make it a smooth sauce. Add salt, pepper, and hot sauce to taste.
Heat a grill pan over over medium high heat until smoking, spray with nonstick spray, and cook the filets for 3 minutes per side or until just opaque in the center.
Serve cooked filets with sauce on top.
The Verdict: I know we've been living on protein shakes, tuna, cottage cheese and yogurt the past couple of weeks, but this was seriously so good! I could only eat about half of a filet because of my new tiny stomach. But the avocado aioli was delicious.  And I have discovered that I'm starting to actually enjoy fish.