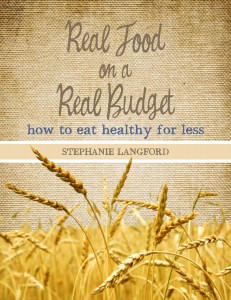 (the following tips are my own and not from the book pictured above)
1. Participate in a CSA. And use ALL of it.
Many people balk at the sight of the up-front costs, but we've found it is a deal if you can eat all of it. It does take some preparation and planning (I'll be posting about how we do it this CSA season starting when our CSA starts next week). Also, take advantage of any U-pick opportunities, and if you notice people at pick-up not taking their full share (some people don't like kale, for example), ask if you can have their unwanted vegetables. Some CSAs also offer working shares, where you receive a discount for working on the farm. Sometimes it's not just field work, either – they might need marketing help, accounting, etc. Never hurts to ask, especially if you have more time than money.
2. Get a herdshare and learn to make home dairy.
Again, raw milk might seem more expensive per gallon, but once you calculate everything you can make from it (cream, butter, yogurt, the list is endless) the price doesn't seem so bad. Now that our milk share quantity is at its peak season, I'll be posting some how-tos over the next few weeks.
3. Find a source for whole grains and other bulk items.
This might take some research. For me, I discovered that our local health food store has the best prices. There are a few local mills I want to check into, too, but for now the convenience can't be beat.
4. Find someone who has their own chickens.
Eggs are a great source of protein, and inexpensive when compared to meat. For the best deal on free range organic eggs, find someone who has their own chickens and is looking for a way to get rid of some of their eggs. They might be willing to give you a deal or barter in exchange for services.
5. Try not to eat anything you can't get from the above sources.
Funny thing, when I go to a regular grocery store I always end up with things not on my list. Planning my meals around the vegetables, eggs, milk, I get from the above sources and avoiding the store as much as possible really helps with that.
6. Buy in season.
Usually the first few asparagus and strawberries command a premium price at the farmer's market. If you can be patient, the prices will fall as everyone else begins to get inundated at peak harvest time.
7. Learn how to preserve food.
That way, you can buy when prices are lowest and stock up. Preserving doesn't always mean canning, either – there are many fruits and vegetables that you can freeze, and as long as you have the freezer space it's super fast and easy.
8. Grow your own.
Easier said than done, I know. At least try some potted herbs and container plants. I'm trying bag gardening for the first time this year. I'll let you know how it goes.
9. Share with others.
This rule applies for lots of things. No pressure canner? Food dehydrator? Ask around, I'm sure someone will be willing to let you borrow theirs. Also if you can find people to "go in" with you on large bulk purchases you can often get a discount. Share a cow, for example.
10. Buy the book Real Food on a Real Budget (affiliate link)
This post shared at Frugal Friday