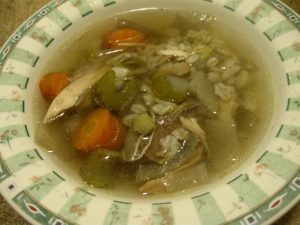 OK, so I promised to tell you what I made with the leftover broth from making the risotto. When I came home the house smelled heavenly. The cinnamon, chicken, and other flavors that went into making the chicken stock were just awesome. I dumped the contents of the crock pot into a bowl with a cheesecloth-lined strainer and measured out the broth I'd need for the risotto. And then I realized that I had Turkey Barley Soup from Simply in Season mostly made!
The turkey barley soup recipe is a bit different in the cookbook, but I've made that version before too and it's good. You'll just have to trust me on that one.
To recap, to make the chicken stock/broth, what I did was put a 3 pound stewing chicken in the crock pot, added 2 diced onions, 1 diced leek (white part only), 2 stalks of diced celery, 2 cloves of garlic (smashed), 1 stick of cinnamon, a sprinkling of black peppercorns, 2 bay leaves, a splash of lemon juice, and 1/4 tsp of allspice.
After removing the 4 cups of broth that I needed for the risotto, I picked out the cinnamon stick, bay leaf, peppercorns, and chicken and returned the rest to the crock pot. I removed the meat from the stewing chicken and added back in to the pot, along with some sliced carrots and 1/2 C of barley. I went to the gym for a couple of hours and when I returned, voila! Soup!
The verdict: In hindsight I probably should have added some additional lemon juice, cracked pepper, and salt, but the soup was still tasty – I just added saltines. There's something satisfying about the stewed chicken soup. I also love the rusticness of just pulled-apart chicken instead of nice little cubes.
Sorry, no printable version or nutrition info, as I didn't really measure most of it. Ever want to calculate the nutrition info on your own recipes? Head over to sparkrecipes.com! It's free!
This post linked to Works for Me Wednesday and Pennywise Platter Thursday.