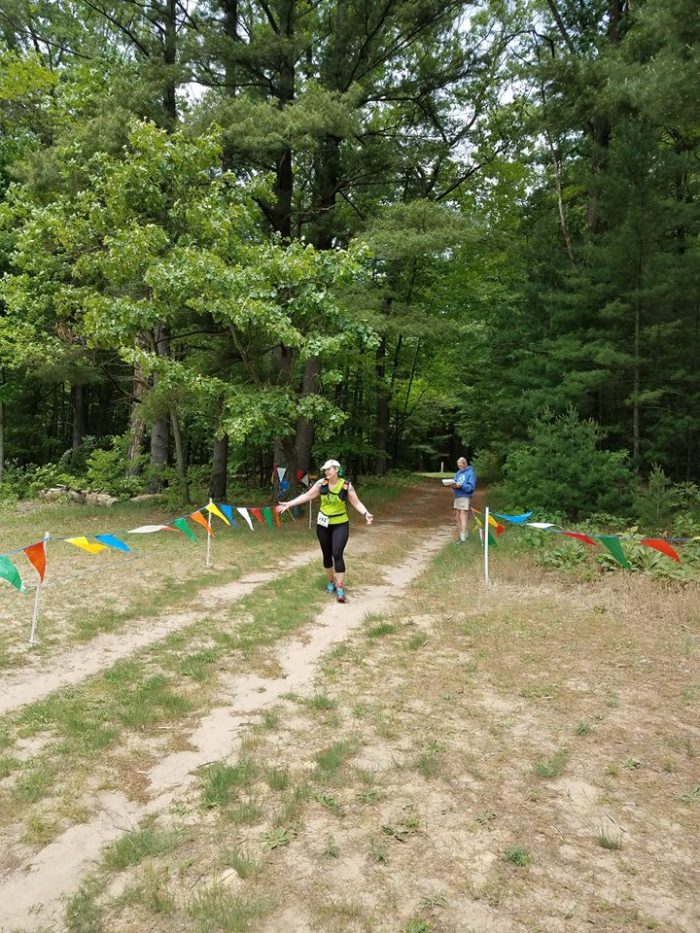 Spoiler alert: I DNFd. But I came soooo close. And I learned so much. Read on for the complete recap.
I feel like I've been training for this double marathon for forever. In fact, it was the winter 50K where I decided that I would be able to take on the challenge of a 50 mile run this spring rather than wait for the fall. After all, there was a quad marathon going on at the same time so I'd have 30 hours to complete it. Heck, I could take a nap and still finish in time! What could go wrong? Oh, how naive I was.
I have always felt fine after a 50K (well maybe not the winter one, I really had to struggle through the last two miles). I figured that a 50 miler would be similar. Sure, I had heard that 50Ks are basically a marathon with a bonus few miles thrown in. But really, how much harder could a 50 miler be? I was about to find out.
On Friday we packed up the camper and headed down towards Yankee Springs. We stopped at a bar & grille for dinner. I mentioned to DH that I wondered when packet pickup was. He said, haven't you been getting the emails? I said no, I thought he was getting them since he was the one who signed me up. He signs us up for all our races. Well long story short, he somehow didn't register me! I tried to message one of the race directors. We asked for the check and sped down to the race location. Luckily they had on-site registration. Whew! I hoped that wasn't a bad omen.
We set up camp and I settled down for the night. I was getting nervous. Would I really be able to complete a double marathon? I followed the training plan I'd found online, but my longest run was 30 miles. Where were the next 22 miles going to come from? My butt?
Troy was hacking all night with a chest cold he'd picked up from his work. I tried to sleep. What if I came down with the cold during the run? That would suck.
The next morning we woke up, had coffee, and he drove me to the starting line. The race started at 6 AM. Troy headed back to the camper to sleep a bit more.
It was a perfect day other than the mosquitoes. I had put about four layers of Deep Woods Off and the little buggers were still biting through my running capris. The temperature wasn't too hot and there was a slight breeze once we got going. I soon found myself running with a woman named Vickie, who had done several 50 milers but this was her first double marathon of 52.4 miles. We had about the same pace and the miles went by quickly as we got to know each other.
Lesson #1: Nutrition is important
I knew that I didn't eat much on Friday, but I figured I'd make it up on the course. For some reason my trusty Infinit Go Far wasn't sitting well. At aid station #2, they had some Gatorade tabs that had ginger in them so I had one of those. That seemed to settle my stomach.
The course was four loops total for the double marathon, as each loop was 13.1 miles. I felt great after the first loop. I could do this all day! But by the first aid station of the second loop, I could feel myself lagging. Because I wasn't drinking as much Infinit, I could sense that I needed protein. I tried to choke down some grilled cheese at the first aid station. Vickie mentioned that she had some hard boiled eggs in a cooler in her car, but I decided to just continue to eat from the course. In future attempts I will definitely pack some protein options.
Lesson #2: Company is important
I usually like to run by myself, but after several hours even an introvert like me needs company. After the second loop I felt like walking a bit more than Vickie was, so I told her to go ahead. She had a cabin not far from the starting line and she changed her shoes so I continued on to the start/finish where I met DH. I was a bit disappointed to learn that he would not be pacing me as he was not feeling well. I continued on by myself, wondering how far ahead of me Vickie was. It might get lonely out there.
At the first aid station the volunteer said, "Hey, you have a green shirt! Your friend was just asking about you!" I thought that's odd, I thought she would be way more ahead of me. But there was Vickie coming out of the bathroom. She said she was fine walking, so we decided to continue together.
Lesson #3: Wardrobe Changes are important
There were some sandy spots in the trail and I could feel the sand starting to give me blisters. I wished that I had brought another pair of shoes and socks to change into. We were on the third loop now, and my feet were starting to feel it. We were actually trotting when the Garmin said I hit 33.1 miles, the longest I'd ever run. I felt pretty good.
DH met me in his gear about a mile from the start/finish. I was so excited! We'd been out there several hours and it was nice to see him. He had decided that with enough cold meds he'd be able to walk with me the final 13.1 mile loop. But then . . . the stomach cramps started. I had to stop and lean on a tree, sure I was going to vomit. Turned out to be dry heaves. DH was concerned but said I'd be fine, that I should just stick with water and flat Coke and not worry about getting food in.
At the start/finish Vickie stopped at her cabin to change clothes. I really wished I had something fresh to change into. Troy had me sit down and one of the aid station volunteers got me some Coke while Troy filled my water bottle and sprayed me with another coat of bug spray.
I emptied my shoes and socks from all the sand. Yuck! Troy told the volunteers that I was not feeling well but was determined to finish, even if I had to dry heave the whole last loop.
I was, too! I thought about the Rohingya refugees, about the people who had donated to the cause. I thought about how much I had trained for this. 13.1 miles. That's nothing. I've run more miles hung over.
One of the racers who had done the marathon came up to me as I came out of the port a john and said, "Whether you go back out there or not, you have done a hell of a job. It is tough out there." That meant a lot to me.
DH, Vickie, and I set out for the final loop.
Lesson #4: Pacers are important
As the stomach cramps continued, and even the water made my stomach churn, I started to doubt whether I'd finish. I stopped to dry heave again and DH assured me I was OK. I said maybe I'll quit at the aid station, they could probably give me a ride back to the starting line. He said he thought I could continue.
When we got to the first aid station I sat down right away and tried to let my stomach settle. The aid station volunteers looked concerned and asked if they could get me anything. DH filled my water bottle and I sipped a cup. I said no, I just need to rest and that I couldn't take in anything anyway. One of the ladies asked how long my stomach had been doing this, and I replied about a mile and a half or so from the end of the last loop.
"That takes gumption to keep going when you were at the finish line," she said. Yes it did.
We were quite the team, with Vickie leading and me stopping to dry heave and Troy hacking from his cold. About a mile away from aid station 1 I told Vickie to go ahead. I started crying about how I'd let everyone down. Troy was so sweet. "This is just an emotional part of the race, it's normal" he said. I was really doubting myself at the moment. I couldn't get any water down. I kept dry heaving. The hills were getting higher and steeper.
About a mile from the second aid station I decided I was done. My feet hurt. I was walking a good pace but I didn't know how much longer I could continue that without being able to take in water, much less any calories. The course between aid stations #2 and #3 had a LOT of rocky, steep sections and I started to cry again at the thought of having to climb up to the aid station, which was a bit up the hill from the track.
Lesson #5: Know when to quit
Six miles. In my head I was like, six miles, come on, you can do it. But my body was like no way. I didn't want to dehydrate myself. I've had to have IV before, it is no fun. We got to aid station #2 and they asked if they could get me anything. DH said, "A ride." They laughed. Then they looked at me and realized he was serious. I explained that I couldn't get anything down, that I kept dry heaving, that it was not a good idea for me to keep going. They called the race director and said they'd send someone.
Since it was a remote location we had to hike half a mile to the road. The mosquitoes were so bad that we decided to walk a bit down the road where the car would be coming from. I was starting to feel better, wishing I'd kept going, but I reminded myself that this was a nice flat gravel road, not the cruel switchbacks awaiting me had I continued the actual route.
DH said I smelled like death. I'm sure I did. I could smell myself and it was not pretty.
My Garmin died but including the exit trek I logged about 48 miles. Two miles short of a 50 miler. Six miles short of the actual race track.
When we were dropped off at the race location the race director asked if I needed the med tent. I declined. She was so sweet and gave me a finisher cup and bag anyway, since I had completed the marathon distance.
We drove back to the camper and when I bent down to remove my socks I had a stomach cramp so bad that I cried out in pain. DH asked if I was OK. I breathed through it. I felt much better after the shower and went to bed. I was so sore all over, but didn't dare take any Ibuprofen because of my stomach.
Before drifting off to sleep, I remember DH saying, "Well, we finally found your limit! Now you know how the rest of us feel after a regular marathon."
The next morning we went out for breakfast. During the night my stomach relaxed enough so I was taking in water. I was able to eat some delicious gravy and biscuits and drink coffee. So good! I didn't have the normal hunger, and it still hasn't actually hit. Not sure what is up with that.
Lesson #6: There is always another race
In a lot of ways I feel like I failed. Obviously, I DNFd. But I learned a lot of lessons, and I am still proud of the fact that I logged 48 miles. I know in my heart that I made the right decision. There will always be another race (in fact I'm already signed up for the Woodstock 100K in September). I had greatly underestimated how difficult a 50 miler is, but having come so close, I am confident that if I had not had the stomach issues that I could have finished. I am still an ultramarathoner, and even though there were moments on Saturday that I was crying, swearing, and telling Troy that I never ever wanted to try this again, on Monday I find myself looking for races to see if I might find a chance at redemption sooner than September. I remind myself that I DNFed my first marathon, and came back stronger than ever.
It's a great life lesson: If at first you don't succeed, try, try again.
Have you ever DNFed or failed at something? How did you make a comeback? Share in the comments below!
For more fitness inspiration be sure to check out these running link ups: The Weekly Wrap hosted by hosted by HoHo Runs and Wendy from Taking the Long Way Home and Tuesdays on the Run with Patty, Erika, and Marcia!