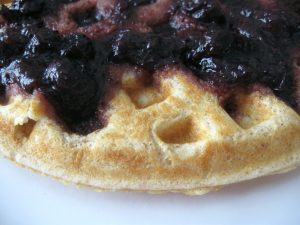 Ever have one of those mornings? As in, you wake up to make your DH waffles, but then realize that you don't have any buttermilk. So you look on the internet and Joy the Baker comes to the rescue, suggesting lemon juice and milk as a substitute. So you add 1 T lemon juice per cup of milk and wait for it to do its thing, and then you realize . . . there's no whole wheat flour.
I searched through the cupboards and found whole wheat pastry flour, whole wheat bread flour, but no regular whole wheat flour. So I hopped in the car and went to get some. I had my heart set on these waffles!
The one good thing about rummaging through the cupboards is that I found a jar of blueberry sauce that I had forgotten about.I had made it in a canning class at my CSA last summer.
The verdict: "Yummy!" DH declared as soon as he took his first bite. I agree. These turned out so light and fluffy, yet with the slightly nutty taste of whole wheat in there. And while DH preferred local raw maple syrup to the homemade blueberry sauce, I thought the blueberry sauce was a taste of summer, which I really need right now!
This recipe is from Simply in Season
2 eggs, beaten
2 cups buttermilk
1 cup whole wheat flour
1 cup flour
2 tsp baking powder
1 tsp baking soda
1/2 tsp salt
1/4 cup oil
1. Combine the buttermilk and eggs in a large bowl.
2. Combine the dry ingredients in another bowl, then stir into the egg mixture.
3. Add the oil and stir in until just mixed – don't overmix!
4. Bake in a hot waffle iron.
Servings: 6
Yield: 6 waffles
Nutrition Facts
Serving size: 1/6 of a recipe (5.4 ounces).
Percent daily values based on the Reference Daily Intake (RDI) for a 2000 calorie diet.
Nutrition information calculated from recipe ingredients.
Amount Per Serving
Calories 288.54
Calories From Fat (36%) 104.15
% Daily Value
Total Fat 11.78g 18%
Saturated Fat 2.27g 11%
Cholesterol 73.77mg 25%
Sodium 676.18mg 28%
Potassium 190.67mg 5%
Total Carbohydrates 36.26g 12%
Fiber 1.13g 5%
Sugar 4.15g
Protein 9.1g 18%
Blueberry Sauce—"Vegetarian Cooking for Everyone" by Deborah Madison, made at Trillium Haven Farm  CSA canning class.
"This makes a striking purple sauce.  I always find that lime does wonders for blueberries—it sparks them, but gently—as does ginger and even a touch of molasses.   I use this on pancakes and over lemon sherbet or ginger ice cream."
3 cups  blueberries, stems removed; 2 tsp molasses; 1/3 to ½ cup sugar to taste; 1 tsp ground cinnamon or ginger or ½ tsp grated nutmeg; Juice of 1 lime to taste
Rinse the berries and put them in a saucepan with the water clinging to them.  Add the molasses and sugar, starting with the lesser amount, and the spice.  Bring to a boil, stirring occasionally.  The berries should burst and fall apart.  Taste, add the rest of the sugar if needed, and stir in the lime juice.  At this point you can serve the sauce as it is, warm and textured with fruit, or you can force it through a strainer to make it smooth and serve it warm or chilled. –makes about 1 2/3 cups.  We canned it in ½ pint jars.   NOTE:  We served the blueberry sauce over ginger ice cream with a little slice of spiced apple pie (made from a really creamy canned applesauce, instead of with apple slices or chunks).  The flavor combination was amazing!  Highly recommended!
This post linked to Tempt My Tummy Tuesdays , Works for Me Wednesdays , Fight Back Friday, Tasty Tuesday