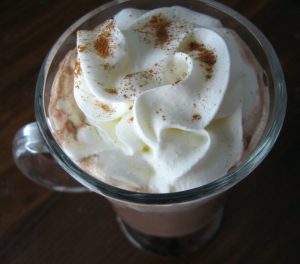 Went snow tubing the other day, and when I was done, I was really in the mood for some good hot chocolate. We ended up going to the Hideout Brewing Co. instead for some delicious hazelnut stout. But the thought of making my own hot chocolate with cocoa I recently bought from Artisan Food Express just wouldn't go away. So I dug out my trusty copy of The 1997 Joy of Cooking and found this recipe on page 34.
In a heavy saucepan, stir together 1 T unsweetened cocoa and 1 tsp sugar. Vigorously, slowly stir in 3/4 C of milk. Heat on medium until little bubbles form around the edges of the milk. Remove from heat, and add 1/8 tsp of vanilla or 1/2 tsp Kahlua or Grand Marinier. Top with ground nutmeg or cinnamon, whipped cream or marshmallows.
So how was it? Simply divine. It was so much richer than hot chocolate from a mix, and it went together very easily. It tastes so decadent, and yet is only 120 calories. This homemade hot chocolate will definitely curb any chocolate cravings you might have.
This post linked to Works for Me Wednesday and Whole Foods for the Holidays