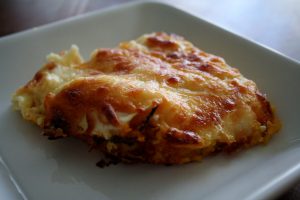 When I saw this recipe in last year's Mother Earth News, I knew I wanted to give it a try. A year later, I finally got around to it.
Ingredients
Ingredients:
1 Tbsp olive oil
1 (1 1/2- to 2-pound) butternut squash, peeled, seeded and cut into 1-inch cubes
Salt and freshly ground black pepper
1/2 cup water
1/4 cup butter
1/3 cup all-purpose flour
4 cups whole milk
Pinch of nutmeg
12 no-boil lasagna noodles
2 1/2 cups shredded mozzarella cheese
1/3 cup Parmesan cheese, grated
Instructions
Directions:
Preheat the oven to 375F.
In a large, heavy skillet, heat the oil over medium and add the squash and water. Salt and pepper to taste. Cover and cook for 20 minutes or until soft. Puree in a food processor or blender. Adjust seasonings.
In a large saucepan, melt the butter over medium heat. Add flour, whisk in, cook for a minute, then slowly add the milk. Bring to a boil over medium/high, then lower heat and simmer, whisking occasionally, until the sauce begins to thicken (about 5 minutes). Add nutmeg, sauce and pepper to taste.
Grease a 9x13 pan and pour 3/4 C of sauce on the bottom. Add a layer of lasagna noodles. Spread half the squash over the noodles and top with 1/2 C mozzarella cheese. Drizzle 1/2 C of the sauce over top and repeat the whole process, ending with a layer of noodles covered with only sauce.
Cover the pan with foil (tightly) and bake for 40 minutes. Remove the foil, top with remaining cheeses, and bake until it's nice and bubbly and browned, about 15 more minutes. Let stand for 15 minutes before serving.
https://www.wholisticwoman.com/butternut-squash-lasagna/
 The Verdict: This is going to sound weird, but it reminded both me and DH of tuna noodle casserole! I have no idea, because there is obviously no tuna in it, but we really liked it. I added some extra cheese so DH didn't complain that there wasn't any meat. I LOVED the sauce, which is good because I accidentally made the butter brown. I think it added a depth of flavor. This is not a quick weeknight dinner, because it takes awhile to peel, cube, and cook the butternut; make the sauce; and then arrange and bake it. But it's a worthwhile weekend effort.
This post shared at Ultimate Recipe Swap