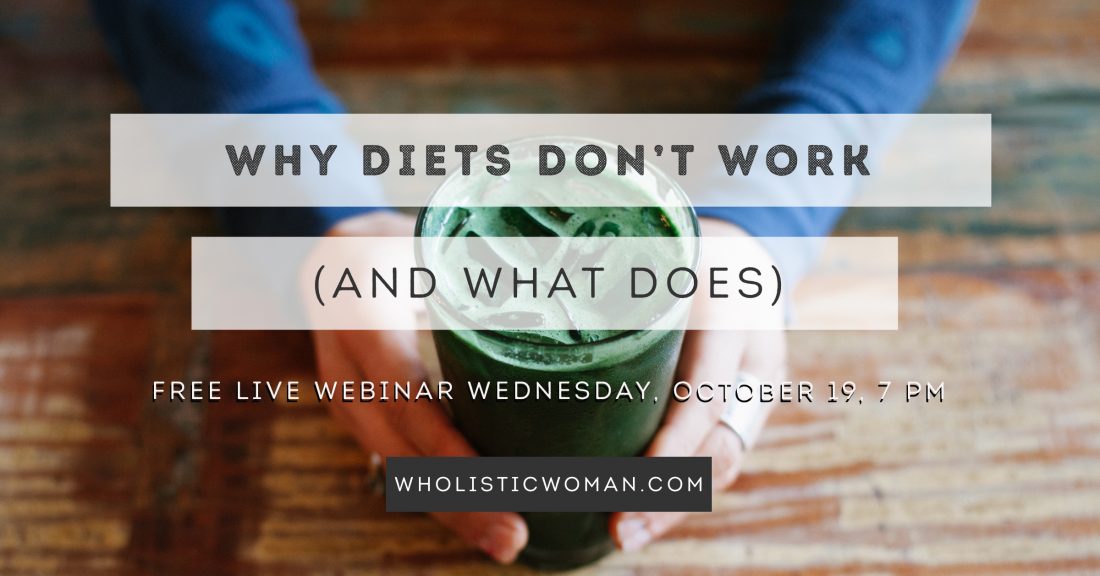 Last night I gave my first ever webinar using Webinar Ninja, and it was a complete disaster. I thought I was sharing my screen, but instead I showed myself! Looking at my notes and all. Ugh. I am planning re-record it and provide the replay below. I've given lots of webinars for work, but I had never used the Webinar Ninja platform before. I'll have to use it a few more times and then give a review.
In the meantime, I'd like to share some highlights from the webinar because it's such an important issue. Especially this time of year, soon you will see lots of ads for diet pills and how to avoid the holiday weight gain.
Why Diets Don't Work
Your body is smarter than you realize. When you overly restrict calories it figures out a way to keep from starving. You have probably experienced this yourself. I know that if I try to limit my calories too much during the day, by the time I get home from work I want to eat everything in sight.
Also, it can be confusing to know which diet to follow. Everyone wants your money and will cite various scientific claims as to why their approach will work. Well, as Precision Nutrition recently showed in this infographic, the science behind nutrition science is really confusing and not as straightforward as one might hope.

So what does work?
Now that we know the "tried and true" methods aren't very accurate, you might be wondering what DOES work?
Commitment.
We are looking for long-term weight loss and improved health here, and it is a long journey. So you have to be committed 100% to making a lifestyle change. This isn't something to jump on for awhile.
Be open.
I can't begin to tell you how many people have told me, when noticing my own weight loss success, start to tell me all the reasons they can't lose weight.
"I have a bad back and can't exercise."
"I hate vegetables."
"I don't have time to cook."
"Eating healthy is too expensive."
"I have to keep junk food in the house for my kids."
The funny thing is, I never ask or comment on people's weight. This is completely unsolicited excuses! That's what they are, excuses. They might be true, but I have seen people overcome each and every one of those items above. The key is to be open. People lose weight without exercise all the time. There are plenty of activities you can do from your chair. Experiment with cooking, vegetables, and new tastes. Try new foods. Tell your kids they don't need junk food either. The point is, these are opportunities not problems.
Use a food journal.
When I was actively losing weight I used MyFitnessPal. Now that I am more focused on health, I have started using a paper journal and will let you know how that goes. I love making stickers and giving myself a gold star when I get a run in 🙂 As cheesy as that sounds, it is very motivating.
Another reason to keep a food journal is to notice what foods make you hungry, which fill you up, which make you feel energized, and which make you feel a bit off. Everyone reacts a little differently to different foods. Even foods that are supposed to be healthy! For example, I have a cranberry allergy, and it's difficult to find a women's multivitamin that doesn't include cranberries. Weird, I know.
Track calories and other things.
While it's important to track calories for a week or so to establish a baseline, you'll want to also track body measurements and NSVs (non scale victories). Remember that calories are an inexact science, so it's more of a guideline than a hard and fast rule.
Find a support system.
I am lucky that my husband and I share the same commitment to getting healthy. However, I know that not everyone has supportive friends and family. If this is the case for you, try to find a club with which to be involved. It can be a paid membership or a free meetup group–you just need to be around people that have your best interest at heart and to keep you accountable. Ever wonder why people post their workouts on Facebook? Some of them might do it to show off, but most are holding themselves accountable.
Step 1: Eat your vegetables.
Adding in vegetables is something that anyone can do, and it is guaranteed to make you feel better right away. Your body will thank you for providing it with micronutrients and phytochemicals that you just can't get from a multivitamin. It can help reduce cravings, and fills you up without adding extra calories.
Be adventurous! Head to your local farmer's market and try something new. Search the Wholistic Woman archives for recipes that feature vegetables that you haven't tried before.
If you absolutely can't stomach vegetables, you might want to try sneaking them in soups, salads, smoothies, or grinding them up into purees.
What's next?
Now that you have a starting point, what happens now? Here are three ideas:
Join our Facebook group for inspiration and ideas. We're a friendly bunch and this week we are talking about super foods.
Looking for a more customized approach? I can help you set goals that make sense FOR YOU and help you get there. I offer one-on-one and group coaching either online or in person (in West Michigan). Email me at wendy @ wholisticwoman.com for more information.
Design Your Diet is a new six-week course that I'll be offering in the next couple of weeks. I'm super excited, because I'm offering this pilot program as a pay-what-you-can workshop. Make sure you're on the Wholistic Woman email list so you can be among the first to know! (and if you subscribe, you'll be able to download our Sugar Cravings Guide right away).