This post is sponsored in conjunction with #BrunchWeek. I received product samples from sponsor companies to aid in the creation of the #Brunchweek recipes. All opinions are mine alone.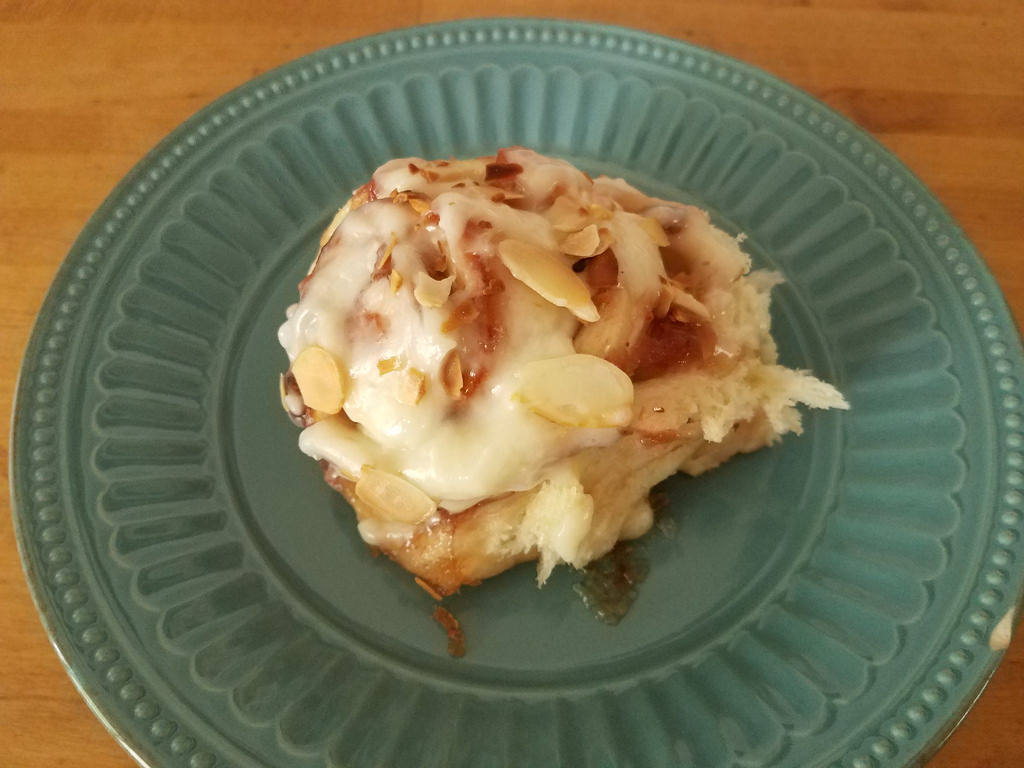 For today's recipe I'm sharing another "once in awhile" treat. I rarely bake any more, but was inspired by a recipe for strawberry rolls with cream cheese frosting found on the Red Star Yeast website. I decided to make it more "spring" by using strawberry rhubarb jam (store bought, but if you'd like to try your hand at homemade this recipe is one of my favorites) instead of just plain strawberry and using almond extract instead of vanilla. (Thanks Nielsen-Massey for the extracts, and Dixie Crystals for the sugar!). DH was super impressed, as were his coworkers who were the lucky recipients of the leftovers.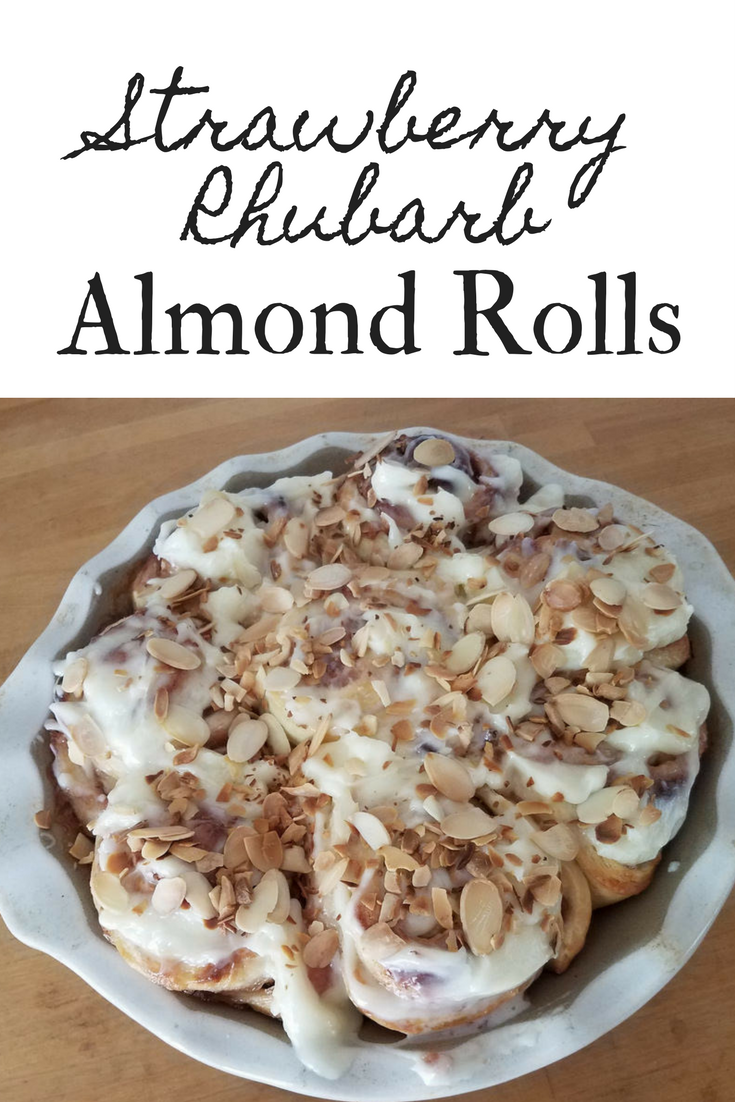 Source: redstaryeast.com
Yield: 8-10 sweet rolls
Serves:
Ingredients
1 large

egg
2 1?4 cups all-purpose flour

3 Tbsp

granulated sugar (shout out to Dixie Crystals)

3 Tbsp

canola or vegetable Oil
2 1?4 tsp (one package) RED STAR Platinum Superior Baking Yeast

Pinch

salt to taste
1?2 cup milk

2 Tbsp

unsalted butter softened
3?4 cup strawberry rhubarb preserves or jam, (or any other flavor)

3 oz

 cream cheese softened
1?3 cup granulated sugar

2-3 Tbsp

unsalted butter softened

1 tsp

almond extract (shout out to Nielsen-Massey)
toasted almond slivers for garnish if desired
Directions
To the bowl of a stand mixer fitted with the paddle attachment (or make and knead by hand using a large mixing bowl; plan to knead for about 10 minutes), combine all ingredients other than milk; set aside.
Add milk to a glass measuring cup and warm to 120 to 130°F, about 45 seconds on high power in the microwave.
Pour the milk over the dry ingredients in the mixing bowl and knead on low speed for about 7 minutes (10 minutes by hand).
If after 5 minutes dough is very sticky and it seems more flour is needed, add more flour, 1 tablespoon at a time, until the dough clears the side of the bowl, but sticking to the bottom is okay. The dough is sticky and tacky, although not excessively so.
After kneading, turn the dough out into a large, greased bowl, cover with plastic wrap, and let it rise in a warm, draft-free place for about 2 hours, or until doubled in size.
After the dough has doubled, punch it down, turn it out onto a floured surface or silicone mat and knead it for about 3 minutes.
Spray a 9- or 10-inch pie plate or similar sized baking dish with cooking spray; set aside.
With a rolling pin, roll dough into approximately an 18-inch-by-12-inch rectangle, just eyeball it.
Add the butter, and spread evenly over the surface.
Add the jelly and spread evenly, leaving a small margin near edges.
Starting with a long side, roll to form a tight cylinder.
Slice the cylinder into 8 to 10 evenly sized pieces using a bench scraper, serrated knife, or plain unflavored dental floss (works great to not squish and compact the log). Jelly will escape out; it's to be expected. Push back in what you can but don't worry about it.
Arrange the rolls in the prepared baking pan. Cover with plastic wrap.
At this point you can…Either – Allow the rolls to rise in a warm, draft-free place until nearly doubled, about 60 to 75 minutes and then bake. Or – Refrigerate the rolls for up to 18 hours. This is the Make-Ahead/Overnight Option. Prior to baking, let dough rise in a warm, draft-free place until nearly doubled, about 60 to 75 minutes.
Which ever option you choose, in the last minutes of rising, preheat oven to 350°F.
Bake at 350°F for 25 to 30 minutes, or until lightly golden on top and cooked through. If you notice your rolls are becoming darker before centers are cooking through, covering with foil in the second-half of cooking will reduce over-browning.
While rolls bake, make the Cream Cheese Glaze by combing all ingredients in a small bowl and beating until smooth, either with a whisk or a mixer. Play with ratios of all ingredients to suit your taste.
After baking, generously drizzle glaze over the warm rolls. Serve immediately. Rolls are best eaten fresh, but will keep in an airtight container at room temperature for up to 4 days. Reheat leftover rolls for a few seconds in the microwave before serving. If you object to keeping cream cheese frosting at room temperature, then refrigerate the leftover rolls. If you have extra unused glaze, it makes an amazing fruit dip; or it can be stored in the refrigerator for up to 2 weeks.
Recipe created by Averie Cooks.
Powered by

Take a look at what the #BrunchWeek Bloggers are creating today!
BrunchWeek Beverages:
Pineapple Citrus Smoothie from It Bakes Me Happy.
Southern Spiked Mango Iced Tea from The Crumby Cupcake.
BrunchWeek Egg Dishes:
Cheddar Asparagus Mini Quiche from Amy's Cooking Adventures.
Goat Cheese and Asparagus Breakfast Souffle from Palatable Pastime.
BrunchWeek Breads, Grains and Pastries:
Apple Cheddar Chop Bread from A Day in the Life of the Farm.
Apple Cinnamon Buns from Books n' Cooks.
Apple Lekvar Sweet Rolls from Cindy's Recipes and Writings.
Apple Hotteok (Fried Stuffed Pancakes) from kimchi MOM.
Apricot Danishes from Sarcastic Cooking.
Braided Apple Ginger Danish from The Spiffy Cookie.
Bourbon Banana Waffles from Forking Up.
Cinnamon Sugar Apple Muffins from Rants From My Crazy Kitchen.
Easy Popovers with Honey Butter from Hardly A Goddess.
Glazed Cinnamon Buns from That Skinny Chick Can Bake.
Strawberry Rhubarb Almond Rolls from Wholistic Woman.
Ultimate Cheese Muffins from Jane's Adventures in Dinner.
BrunchWeek Main Dishes:
Breakfast Loaded Tatertot Casserole from Big Bear's Wife.
Grilled PBJ with White Cheddar and Bacon from Nik Snacks.
Steak and Eggs Oscar Style from The Redhead Baker.
BrunchWeek Fruits, Vegetables and Sides:
Aloo Tiki with Apple-Tamarind Chutney from Culinary Adventures with Camilla.
Asparagus Salad from Cookaholic Wife.
Asparagus Caprese Salad from The Barbee Housewife.
Cheesy Potato Asparagus Tart from Sew You Think You Can Cook.
Garlic Roasted New Potato and Asparagus Salad from An Edible Mosaic.
White Cheddar Pimento Cheese Spread from Love and Confections.
BrunchWeek Desserts:
Chocolate Rose Truffles from Cooking with Carlee.
Coffee Almond Fudge from Family Around the Table.
Don't forget to enter the giveaway!
See list of prizes here
a Rafflecopter giveaway

Disclaimer: Thank you to #BrunchWeek Sponsors: Red Star Yeast, Dixie Crystals, Cabot Cheese, Nielsen-Massey, Rainier Fruit, and Michigan Asparagus for providing the prizes free of charge. These companies also provided the bloggers with samples and product to use for #BrunchWeek recipes. All opinions are my own. The #BrunchWeek giveaway is open to U.S. residents, age 18 & up. All entries for the winner will be checked and verified. By entering you give the right to use your name and likeness. The number of entries received determines the odds of winning. Six winners will be selected. The prize packages will be sent directly from the giveaway sponsors. The #BrunchWeek Bloggers are not responsible for the fulfillment or delivery of the prize packages. Bloggers hosting this giveaway and their immediate family members in their household cannot enter or win the giveaway. No purchase necessary. Void where prohibited by law. This promotion is in no way sponsored, endorsed or administered by, or associated with Facebook, Instagram, Pinterest, or any other social channel mentioned in the #Brunchweek posts or entry.