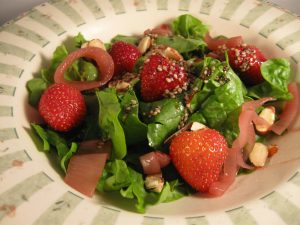 There are endless variations to this salad listed in Simply in Season , and I chose the one that most appealed to me. The base is 4 C spinach (remove stems and tear into pieces) and 1 C strawberries. But you can use any kind of greens or sliced fruit.
To that I added some of the vinegared red onions that I made a few months ago and slivered almonds. Other ideas include
bacon
cheese
nuts
chilled blanched asparagus
sunflower seeds
garlic
See? It's very versatile. If you buy the book, you'll also get recipes for pineapple dressing, peanut dressing, and rhubarb dressing. This time around I chose the tw0-seed dressing.
Simply add 1/4 C honey, 2 T sesame seeds, 1 T poppy seeds, 1/4 C balsamic vinegar, 1/4 C olive oil, 1/8 tsp Worcestershire sauce, 1/4 tsp paprika, salt and pepper to taste in a jar and shake well. How easy is that?
The Verdict: I LOVED the freshness of the spinach, the sweetness of the first strawberries of the season, the crunch of the seeds and almonds, and sweetness and tang of the balsamic vinegar dressing and vinegared onions combined in both texture and flavor. DH added cheese to his, but I found it perfect without.
Kitchen Tip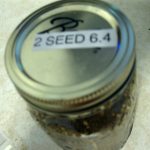 With the arrival of salad season, I find myself making various homemade dressings. One thing I'm going to do this year is to label and date them! Last year I found myself going through the refrigerator and finding forgotten jars, wondering what the heck THAT is and how long it's been in there.
This post linked to Frugal Food Thursday and Ultimate Recipe Swap