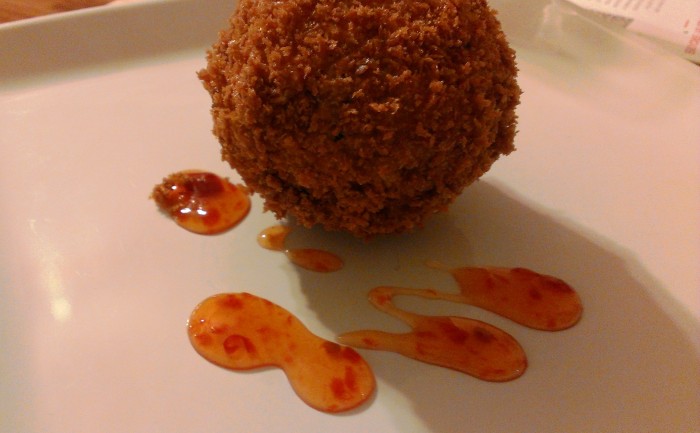 I came home last night to groceries on the counter. Now, DH rarely buys groceries unless he has something specific in mind.
Me: What are you making for dinner tonight?
DH: Something I've been craving for a few months now but haven't had in over 20 years.
Me: What is it?
DH: Something that I learned how to make from a Japanese woman. She was the mom of one of our foreign exchange students from Norway.
Me: You had an exchange student from Norway whose mom was Japanese?
DH: Yes.
Me: So his dad was Norwegian?
DH: Yes.
Me: Oh. So what's in it?
DH: Mashed potatoes mixed with ground beef rolled in Panko and deep fried.
Me: No onions?
DH: That's a good idea. I'll add some.
Me: And you tease ME about altering recipes!
DH: I'm not altering it. I'm improving on it.
Me: So are we having any vegetables with dinner?
DH: Not unless you plan to make them.
I look at the stove with the pot of potatoes boiling, another burner being used to cook the ground venison, the deep fryer plugged in next to the stove, and the counter covered with a bowl of flour, a bowl of whipped eggs, and a bowl of Panko.
Me: Looks like we'll just be having your balls for dinner tonight.
DH: We used to have these with Japanese steak sauce, but I didn't see any at Meijer. So I picked up sweet garlic chile sauce instead.
Me: Maybe you should try the Asian Market.
DH: That's where we used to get them.
An hour later, dinner was served.
Me: These are really good! Excellent with the sweet/spicy sauce.
DH: They would be even better with some sort of heat resistant cheese in the middle.
Me: Like gruyere?
DH: Like cheddar.
Me: I think I'd like gruyere better. So are you going to give me the recipe so I can blog about it?
DH: What recipe?
Me: Like, how to make it.
DH: Make a ball of ground beef and mashed potatoes. Add onions if you want. Season to taste. Roll in flour, then egg, then Panko. Then deep fry.
Me: OK. I guess my readers can figure it out from there. What is this called again?
DH: Deep fried mashed potato balls with ground beef.