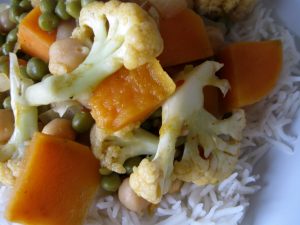 Just the other day someone was asking me what to do with squash other than roasting it and adding sugar. Although this recipe calls for sweet potato, I think it would be equally as good with butternut squash. And, it goes together fast!
PRINTABLE VERSION: Autumn Tagine
Source: Simply in Season
2 cups onion, diced (about one medium)
6 cloves garlic, minced (don't tell, but I used jarred)
1 tsp Ginger-root; fresh; minced (forgot to get this at the store, so I used powdered ginger)
2 tsp ground cumin
1 tsp paprika
1/2 tsp salt
1/2 tsp pepper
1/4 tsp crushed hot chilies
3 cups sweet potatoes peeled and cut into 1-inch cubes
2 cups chickpeas (about one can)
1 1/2 cup vegetable broth
1/2 head cauliflower florets
2 cups peas (about one can)
1. Saute' the onion in a large soup pot until soft, about 4-5 minutes.
2. Add the garlic through hot chilies and stir for one minute.
3. Add the sweet potatoes, chickpeas, and broth. Bring to a boil, cover, reduce heat, and simmer for 5 minutes.
4. Add the cauliflower and peas, cover, and simmer for about 12 minutes or until the vegetables are tender.
5. Serve over rice or couscous, and garnish with cilantro if desired.
Servings: 6
The verdict: This went together quickly, and tasted great!
Nutrition Facts
Serving size: 1/6 of a recipe (16.6 ounces).
Percent daily values based on the Reference Daily Intake (RDI) for a 2000 calorie diet.
Nutrition information calculated from recipe ingredients.
Amount Per Serving
Calories 349.07
Calories From Fat (8%) 27.51
% Daily Value
Total Fat 3.22g 5%
Saturated Fat 0.48g 2%
Cholesterol 0.62mg <1%
Sodium 1157.03mg 48%
Potassium 1082.51mg 31%
Total Carbohydrates 69.3g 23%
Fiber 14.13g 57%
Sugar 8.08g
Protein 13.86g 28%
This post shared at Monday Mania