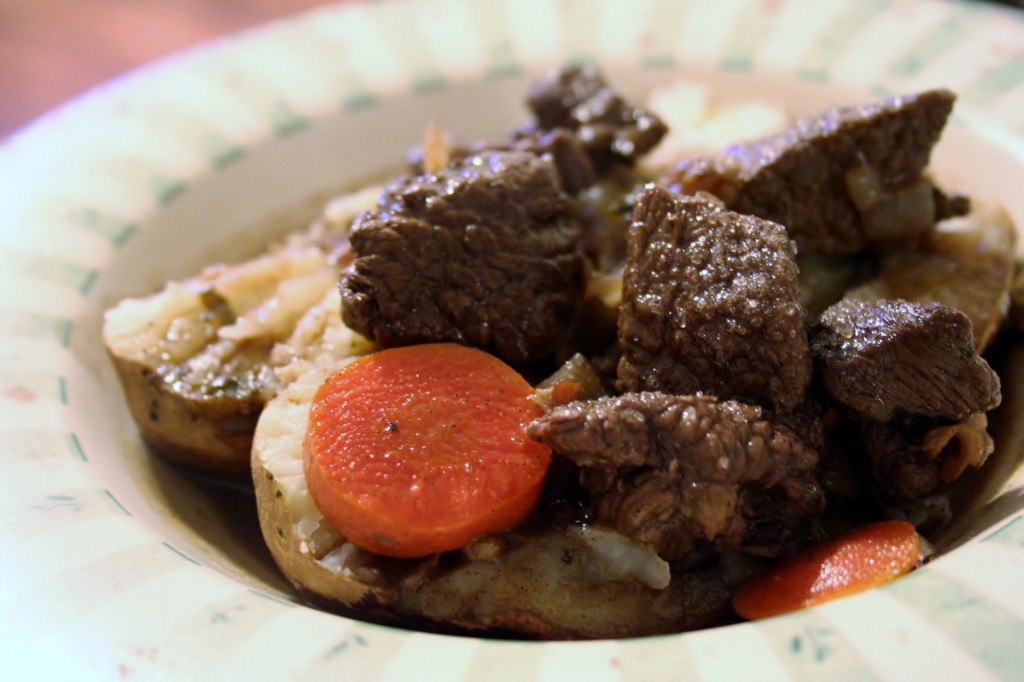 Today I'm posting a beef stew recipe, even though it's soup week, because I ended up making this more into a soup. Regardless, it tasted great and features local ingredients.
This recipe comes from The 1997 Joy of Cooking, and I love the introduction.
Based on local ingredients and local wine, this robust stew typifies the earthy, full-flavored cooking of the gastronomical capital of France–Burgundy. Originally made with the rather learn and coarse beef from the region's Charolais cattle, this dish can be made with any good stew cut.  Choose a light, dry red wine such as Pinot Noir (the grape of Burgundy) or Beaujolais.
Indeed, I did use mostly local ingredients, and have submitted it as this week's Dark Days Challenge entry.
Ingredients:
2 lbs stew meat (I cut the recipe in half and used beef stew meat from S&S Lamb, which I obtained through our local co-op)
2 C dry red wine (I used a local wine, Fenn Valley Capriccio)
1/4 C olive oil (not local, as we don't have olives in Michigan. I have found that locally produced soy oil is available, but I'm not a huge soy fan)
1 onion, chopped (would you believe I still have some left from last fall's CSA? It's keeping rather well in the cold garage)
1 carrot, peeled and chopped (I never peel my carrots. This one was not local, as my carrots are frozen in the ground.)
1 clove garlic, chopped (this was some of the local garlic I bought through the co-op and it is the best garlic I've ever had. Seriously.)
1 bay leaf
2 Tbsp fresh parsley
1/2 tsp dried thyme
1 tsp cracked black peppercorns
1/2 tsp salt
4 oz bacon, diced (this was from the half a pig that I purchased from my nephews who raised them as a project)
2 Tbsp all-purpose flour (I recently discovered that I am able to get local flour, but since I have a canister of AP flour I have decided to use that up first. Waste not want not!)
8 oz mushrooms (while I can find dried local mushrooms, they are quite expensive. I substituted a Tablespoon of mushroom powder)
1/4 C chopped fresh parsley (I omitted this)
salt and ground black pepper to taste
boiled new potatoes (I used Michigan potatoes, baked)
Directions:
Stir the stew meat (cut into chunks) and the olive oil, onion, carrot, garlic, bay leaf, parsley, thyme, salt, and pepper and place in a large plastic bag or covered marinating dish. Let sit in the refrigerator for one to 24 hours. Drain beef and pat dry. Strain the  marinade and reserve it and the vegetables separately.
In a large Dutch oven, brown the bacon and remove from pan, leaving the drippings. If there isn't about 2 Tbsp left of drippings, add some oil. Then, brown the beef on all sides. Remove.
Stir in the 2 Tbsp flour and brown for 1 minute; stir in the marinade, then return the beef and bacon. Bring to a boil, then reduce heat to low and cook, covered, 1 1/2 to 2 hours. Since I felt there wasn't enough liquid, I added some Nourishing Adrenals Infusion Broth.
 Add mushrooms, boiling onions, parsley, black pepper if desired. Can also thicken with kneaded butter if desired.
Serve over boiled new potatoes or, as I did, over baked potatoes.
The Verdict: I knew as soon as I took the meat out of the marinade that I'd love this dish. DH loved it too, he declared it just the right amount of meat to "other stuff." I'm glad I added about a cup and a half of the nourishing broth because that way there was lots of delicious broth to cover the potatoes. DH also said he'd never eaten stew on top of baked potatoes, but we liked it that way.
For more ideas for cooking with local ingredients in winter, check out the Dark Days Challenge at Not Dabbling in Normal. This post also shared at Recipe Roundtable.