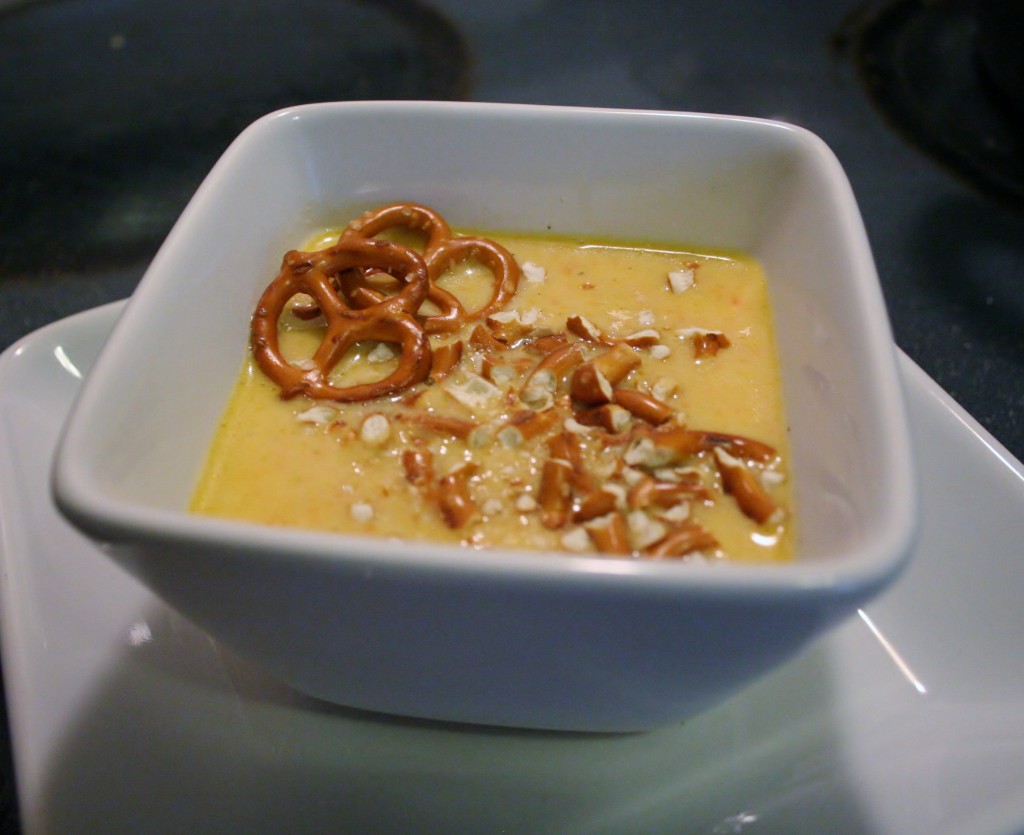 I love it when DH gets inspired in the kitchen. Yesterday, he wanted to make beer cheese soup. It turned out delicious!
Original source: Allrecipes.com
Ingredients:
1 1/2 C carrots, diced
1 1/2 C onion, diced
1 1/2 C celery, diced
1/3 C butter
2 cloves garlic, minced
1 tsp dry mustard
1/3 C flour
1 tsp hot pepper sauce
1/8 tsp cayenne pepper
1/2 tsp salt
1/4 tsp black pepper
3 C chicken broth
2 C beer
4 C milk
6 C shredded sharp Cheddar cheese
1 Tbsp Dijon mustard
2 tsp Worcestershire sauce
Directions:
Melt butter in a large stock pot and saute' the onions, celery, and carrots until softened. Add garlic and saute' briefly. Add flour and dry mustard and mix well. Add the hot pepper sauce, cayenne pepper, salt, pepper, broth, and beer. Cook for 10 minutes or until warm over medium heat.
Lower heat to medium-low, and add milk gradually, stirring well. Simmer for another 10 minutes, stirring periodically (don't allow to boil).
Remove from heat and stir in the cheese gradually by handfuls. Add the Dijon and Worcestershire and put back on the low heat for 10 minutes or until warmed through.
The Verdict: DH used his homebrewed IPA, which is a very strong flavored beer, so the beer flavor really came through. If you're not into beer that much, you'll want to use a lighter beer. I loved the cheese flavor. DH used pretzels as a garnish and that was really good. It makes a LOT, but luckily it reheats well – just be sure to keep the temperature low, as when making the original recipe, as it will prevent curdling.
Tip to Remember: It's the acid of the beer that can cause the milk to curdle when added to the soup. This can happen with other acidic soups as well – for example, tomato. That's why it's important to keep the temperature low and stir well, adding slowly.
This post shared at Tempt My Tummy Tuesday, Kitchen Tip Tuesdays,  A Little Birdie Told Me, Ultimate Recipe Swap, Things I Love Thursday