Note: This recipe for hearty broccoli soup is reposted in a new and improved format from three years ago. Enjoy this classic broccoli cheese soup for a warm, satisfying weeknight dinner.
One of the amazing things that I've learned by cooking through Simply in Season Expanded Edition (World Community Cookbook) is how many things you can make from scratch that don't take much time at all (like broccoli cheese soup!). Not only does this make your food much healthier (no added preservatives or sodium, and you can control what's in it) but it's cheaper and you don't need to make as many trips to the grocery store.
Now, my mom is a g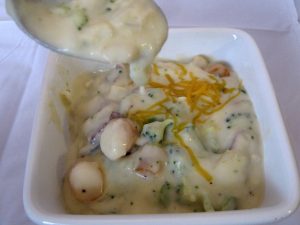 reat cook. But with a household of four girls, she was quite busy! So processed, canned, and boxed foods were definitely the norm except for special occasions. I remember when I was in gradeschool and my neighbor made a chocolate cake from scratch for a class project. I couldn't believe it, it was so good! I told her it was just as good as if it was from a box.
Years later, one morning I was in the mood for pancakes. I told DH that I was going to make them for breakfast. "But we don't have any pancake mix," he said. With a twinkle in my eye, I proceeded to pull out The Joy of Cooking and made some pancakes. They were different from boxed, he conceded, but just as good.
Today's "better than canned" hearty broccoli soup is one of those recipes. You could just as easily go buy some Progresso on sale, but this tastes so much fresher. Don't forget to check out the rest of the soup recipes on my site.
Better than Canned Hearty Broccoli Soup
Ingredients
1 cup water
2 cups potatoes, diced
1 cup onion, diced
1 cup carrots, sliced
1/2 cup celery, diced
2 cups broccoli, chopped
3 cups of milk
2 chicken or vegetable bouillon cubes
1 tsp Worcestershire sauce
salt and pepper to taste
1 cup of milk
1/3 cup of flour
1 cup of shredded cheese
Instructions
Place water in pot, let it warm while you dice the vegetables.
Cook vegetables for 5 minutes.
Add broccoli and cook another 5-10 minutes or until soft.
Add milk, bouillon, Worcestershire, salt and pepper to taste, and bring to a boil.
Blend milk and flour until smooth, then slowly stir into the soup and watch it thicken before your eyes. Turn off hear.
Stir in shredded cheese until melted.
https://www.wholisticwoman.com/better-than-canned-hearty-broccoli-soup/
The verdict: I was amazed at how creamy this soup was, and how all the flavors stand out as opposed to all blended together and mushy like a canned soup. I left the broccoli a little crunchy which was very satisfying. This would be a great soup to make an extra batch (or two) of to bring to work during the week.
This post shared at Frugal Friday