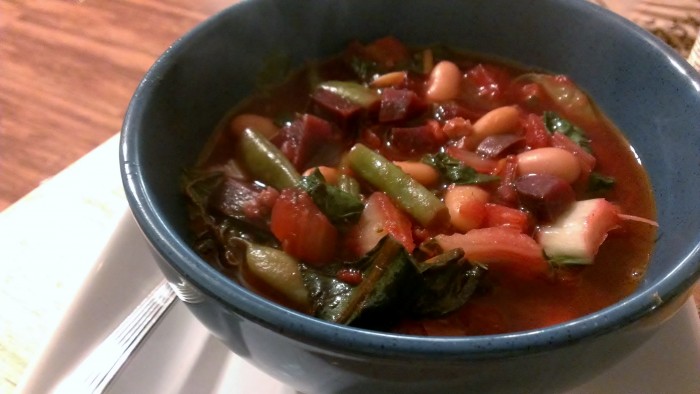 As the weather cools, I start thinking about soup. It's the perfect vessel for using up all sorts of vegetables. Over the past couple of years I have learned to substitute liberally. Which is how I ended up with Bloody Minestrone. No carrots? Beets will do!
I'm sure that Alice Waters would get the vapors from what I did to her Minestrone recipe from The Art of Simple Food: Notes, Lessons, and Recipes from a Delicious Revolution
. If it makes her feel better, I have made the winter minestrone version several times without substitution, and it always goes over well, even with my mother in law who hates any vegetable not deep fried.
Ingredients:
1 cup dried cannellini beans (I substituted one can of cannellini beans as I didn't have any dried on hand)
1/4 cup olive oil
1 large onion, finely chopped
2 carrots, peeled and finely chopped (I substituted two medium beets, not peeled, sort of finely chopped)
4 garlic cloves, coarsely chopped
5 thyme sprigs (I wasn't sure how long the sprigs were supposed to be, so I snipped a small bundle from my garden)
1 bay leaf
2 tsp salt
3 cups water
1 small leek, diced (I substituted bok choy stem)
1/2 pound green beans, cut into 1-inch lengths
2 medium zucchini,  diced
2 medium tomatoes, chopped
1 cup bean cooking liquid (I omitted this since I used canned beans)
2 cups spinach leaves, chopped, about one pound (I substituted the  bok choy leaves and threw in a couple of swiss chard leaves for good measure)
Directions:
Cook your beans if not using canned.
Heat the oil over medium heat, add onion and carrots (or beets, whatever the case may be), and cook for 15 minutes.
Add the garlic, thyme, bay leaf, and salt, and cook for 5 minutes longer. Add water and bring to a boil.
Add the leek (or bok choy stem) and green beans and let boil for 5 minutes.
Add the zucchini and tomatoes and cook for 15 minutes.
Add the cooked beans, spinach leaves and bean cooking liquid depending on how thick you want it. Cook another 5 minutes.
The Verdict:
As you might suspect, DH added chicken and cheese to his (we just happened to have leftover rotisserie chicken). He admitted that it was pretty good and didn't even need the chicken. I loved the earthiness of the beets. I'd substitute them again even if it does make the soup look rather bloody. It's definitely a hearty soup.