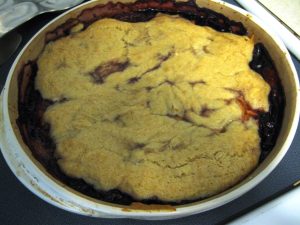 This was a huge hit at our cookout!
Source: Simply in Season
Ingredients
3/4 cup water
1/3 cup brown sugar or honey
1 1/2 Tbsp cornstarch
3 cups peaches (sliced)
1 1/2 cups blueberries
1 1/2 tsp lemon juice
1 cup flour (can use part or all whole wheat)
1/2 cup sugar
1 1/2 tsp baking powder
1/2 tsp salt
1/2 cup milk
1/4 cup butter (softened)
Instructions
Mix the water, sugar, and cornstarch together in a 2 qt casserole dish.
Add the fruit and lemon juice and microwave until it thickens, stirring a few times.
Stir together flour, sugar, baking powder, and salt in a bowl.
Add milk and butter and stir until blended. Pour over fruit. If desired, top with 1 Tbsp sugar and 1/8 tsp nutmeg.
Bake in preheated oven at 350F for 30 minutes.
https://www.wholisticwoman.com/blueberry-peach-delight/
The Verdict: I served this fresh from the oven with vanilla ice cream, and the flavors went together beautifully. I was also glad that it went together quickly.
Nutrition Facts
Serving size: 1/6 of a recipe (8.3 ounces).
Percent daily values based on the Reference Daily Intake (RDI) for a 2000 calorie diet.
Nutrition information calculated from recipe ingredients.
Amount Per Serving
Calories 327.07
Calories From Fat (23%) 75.55
% Daily Value
Total Fat 8.61g 13%
Saturated Fat 5.17g 26%
Cholesterol 21.96mg 7%
Sodium 330.35mg 14%
Potassium 263.25mg 8%
Total Carbohydrates 61.11g 20%
Fiber 2.73g 11%
Sugar 40.36g
Protein 3.97g 8%
This recipe also shared at the Ultimate Recipe Swap , Sweet Thursday, What's On Your Plate, and Simple Lives Thursday