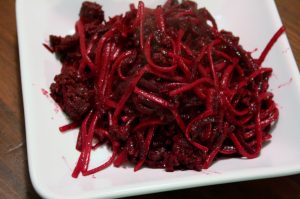 I was tempted to make scallops with white wine, capers, and tomatoes the other day; but I decided instead to figure out something to make with the beets sitting in my garage. I was pleasantly surprised to discover this recipe from Good Housekeeping.
(Rather than copy and paste, you can click on the link above to go to the recipe). Basically, it's 1 lb ground beef (I used ground venison), with cloves, salt, and pepper; 2 pounds of shredded beets; and a pound of pasta. I'm thinking you could substitute other root vegetables, although the beets made it rather colorful.
The Verdict: It was a bit sweet for my taste, so I think next time I'll use fewer beets. The overall flavor was good (love cloves!), though, and I loved that I was able to use mostly local ingredients.
This post linked to Fight Back Friday, Food on Friday, Seasonal Sunday, Real Food Wednesday, and Grocery Cart Challenge