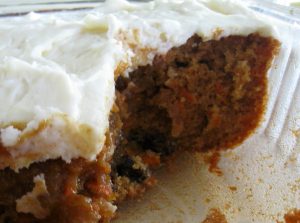 Every Easter, we have a potluck-style family dinner. This is the first year that my Grandma is no longer with us, so my mom hosted it. When I asked her what she would like me to bring, she asked me to pick up a carrot cake with cream cheese frosting at Costco.
"Mom!" I protested. "I can MAKE one of those." I decided that since it was for family, and I have not made carrot cake before, that it was a good excuse to buy the Cooks Illustrated online membership.
FOR PRINTABLE VERSION CLICK HERE: Carrot Cake with Cream Cheese Frosting
2 1/2 cups unbleached all-purpose flour (12 1/2 ounces) (I ran out of all-purpose so I substituted about half whole wheat flour)
1 1/4 tsp baking powder
1 tsp baking soda
1 1/4 tsp ground cinnamon
1/2 tsp ground nutmeg
1/8 tsp ground cloves
1/2 tsp table salt
1 lb medium carrots (6 to 7 carrots), peeled
1 1/2 cups granulated sugar (10 1/2 ounces)
1/2 cup packed light brown sugar (3 1/2 ounces)
4 large eggs
1 1/2 cups vegetable oil , safflower oil, or canola oil
Cream Cheese Frosting
8 oz cream cheese , softened but still cool
5 Tbs unsalted butter softened, but still cool
1 Tbs sour cream
1/2 tsp vanilla extract
1 1/4 cups confectioners' sugar (4 1/2 ounces)
Preheat oven to 350F and prepare a 9×13 cake pan.
1. Whisk together flour, baking powder, baking soda, cinnamon, nutmeg, cloves, and salt in large bowl; set aside.
2. Shred carrots and set aside. Beat granulated and brown sugars and eggs on medium-high until thoroughly combined, about 45 seconds. Reduce speed to medium; with mixer running, add oil in slow, steady stream, being careful to pour oil against inside of bowl (if oil begins to splatter, reduce speed to low until oil is incorporated, then resume adding oil). Increase speed to high and mix until mixture is light in color and well emulsified, about 45 seconds to 1 minute longer. Turn off mixer and stir in carrots and dry ingredients by hand until incorporated and no streaks of flour remain. Pour into prepared pan and bake until toothpick or skewer inserted into center of cake comes out clean, 35 to 40 minutes, rotating pan halfway through baking time. Cool cake to room temperature in pan on wire rack, about 2 hours.
3. When cake is cool, mix cream cheese, butter, sour cream, and vanilla at medium high speed in clean bowl of standing mixer fitted with whisk attachment ( or in large bowl using handheld mixer) until well combined, about 30 seconds, scraping down bowl with rubber spatula as needed. Add confectioners' sugar and mix until very fluffy, about 1 minute.
4. Cut into squares and serve. (Cover leftovers and refrigerate for up to 3 days.)
Servings: 24
The verdict: It was not my weekend for baking. Just call me Rachel Ray. The cake looked beautiful when I took it out, but an hour later it collapsed in the middle. Ugh! I think my baking soda or powder might be old. We ate the edges anyway, and that part was DELICIOUS! And the cream cheese frosting was to die for. Then again, you can't go wrong with cream cheese, butter, and powdered sugar.
Nutrition Facts
Serving size: 1/24 of a recipe (3.3 ounces).
Percent daily values based on the Reference Daily Intake (RDI) for a 2000 calorie diet.
Nutrition information calculated from recipe ingredients.
Amount Per Serving
Calories 313.36
Calories From Fat (58%) 180.66
% Daily Value
Total Fat 20.47g 31%
Saturated Fat 4.97g 25%
Cholesterol 52.23mg 17%
Sodium 186.71mg 8%
Potassium 131.44mg 4%
Total Carbohydrates 30.2g 10%
Fiber 1.19g 5%
Sugar 18.49g
Protein 3.41g 7%
This post linked to Tempt My Tummy Tuesday