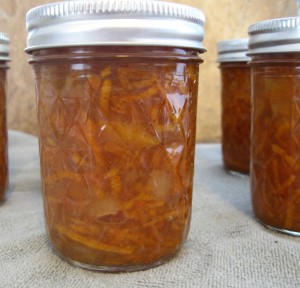 For this month's Can Jam Challenge, we were to make something that featured carrots. I looked through my books and decided that I would give marmalade another go. After all, this is supposed to be a learning experience, and I thought I might learn something if I tried again.
This recipe is from the Ball Blue Book of Preserving
Ingredients: 2 lemons, 4 C shredded carrots, 4 C sugar, 2 C crushed pineapple (drained), 1/2 tsp allspice, 1/4 tsp nutmeg, 1  pouch liquid pectin.
Procedure:
Peel lemons, cutting peel into strips, removing a small portion of the white pith. I took a large portion off, remembering the bitter lime-ginger marmalade experience! Slice peel and set aside. Squeeze lemons to measure 1/3 C of juice, and throw everything except the pectin in a large pot. Stir until sugar dissolves and bring to a boil. Add liquid pectin and return to a rolling boil for one minute. Stir marmalade 2 minutes (oops forgot this part). Ladle hot marmalade into hot jars, leaving 1/4 inch headspace. Process 10 minutes in a boiling-water canner.
The results:
The flavor is very sweet. I love it, although I almost wish I had left more pith on. It doesn't seem to be setting up, though – probably because I forgot the stirring for 2 minutes step. I'll check it tomorrow afternoon when I get back from my work trip.  On the bright side though, I heard lots of "pops" which means most have sealed, and it's only been an hour! The whole thing took me about 2 hours to complete.