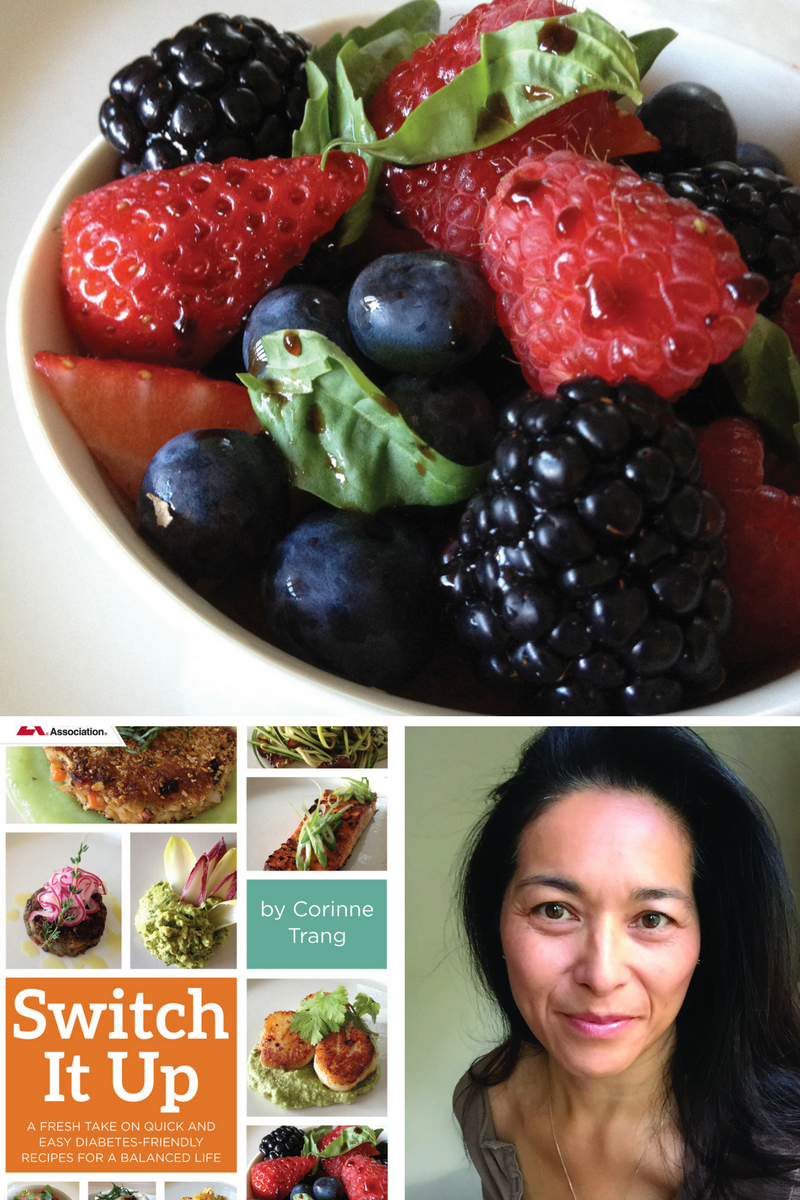 As someone who teaches diabetes prevention classes, I'm always on the lookout for diabetes-friendly recipes. Recently I had the chance to review Switch It Up by Corinne Trang and interview the author. Read on for a little background to the book!
What made you decide to write a cookbook?
"Switch It Up: A Fresh Take on Quick and Easy Diabetes-friendly Recipes for a Balanced Life" is my 9th book.
I love collecting recipes for myself and others. Over the years, I've been fortunate enough to travel to many parts of the world, primarily Asia and Europe. I've met many interesting people including chefs and home cooks with whom I've spent time discussing food philosophy and practices.
In the past my goal was to preserve tradition by publishing the most authentic versions of any number of classic recipes, offering up history in the process. Today I also care about our collective wellbeing. Obesity, heart disease, cancer and other serious health conditions are on the rise.
As a food professional and holistic health and nutrition counselor, I have made it a personal goal to develop an approach to food that is good for anyone, not just those living with specific health conditions.
Whether you are diagnosed with cancer or not, you should always make healthy choices by sticking to fresh as opposed to processed foods, no matter what. It's a no-brainer.
Diseases develop over time. If you think about the moment you feed your baby crackers to the time they grow into adulthood, they've had plenty of time to decide what foods to eat. If they've made poor choices year after year, as opposed to keeping a diet of farm-fresh ingredients, they will feel the difference, not only physically, but mentally and emotionally. It's common sense.
The reason I write cookbooks is to influence people to eat healthy foods while exploring world flavors, because variety is important.
What do you mean when you say that you want to help people "Switch it Up?"
There are 50 core recipes in the book, but the combinations are endless. You can combine any 3 recipes to create a different balanced meal every time. This way you don't get bored.
How did you choose the recipes for the cookbook?
I've heard to many times the excuse "I don't have time to cook" or "I dial out." I wanted to make home- cooked meals super accessible by developing quick and easy fool-proof recipes. Most recipes can be made in 10 to 15 minutes. Additionally, I wanted to use familiar ingredients, and fold in a few new ethnic ones, provided that ALL were readily available in a local supermarket. Again it all about convenience, except with fresh ingredients. With the exception of soy sauce, miso, and hot sauce, for example, the majority of the time you'll spend will be in the produce aisle with a little less time in the meat and seafood section. I strongly believe that a healthy diet is one that is 70-75% plant-based. If you spend 70-75% of your time in the produce aisle, then your plate will more than likely be 70-75% loaded with wholesome vegetables. That's the formula.
What one recipe in the cookbook do you find yourself making over and over again?
It all depends on the season. I love the Roasted Butternut Squash and Brussels Sprouts in the Fall, while the Raw Zucchini Salad with Prunes is particularly appealing to me in the Summer. The soups I love in the Winter, while I crave Guacamole anytime of the year, mine seasoned with Miso for an Asian twist on the classic.
Check out the preview below to learn more about the book!