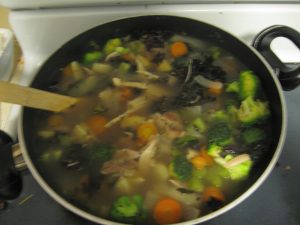 While the recipe in Simply in Season merely calls for a 3 pound whole chicken, I knew that this was the perfect recipe for a stewing chicken.
Stewing chickens are usually tough old birds and are very inexpensive, even when they are the organic free range variety that I get from the farm where I have my milk share. When I purchased two of them, my farmer said "you do know those are stewing chickens, right?" I said, "of course!" They are the best for making chicken soup. The only thing is, you have to be sure to put them in a crock pot or boil them for a LONG time before they become tender. Which is fine by me, by the time they are done you will have the most delicious chicken broth.
For Chicken Vegetable Soup, I put a half frozen chicken in the crock pot on medium for about five hours. If you thaw it out, you could easily put it in the crock pot for 8 hours on low. Add enough water to cover.
When it comes time to make the soup, remove the chicken from the crock pot to cool and set aside. Get out a large soup pot and saute' your chopped up vegetables in a bit of olive oil and water. For this recipe I used the 3 C carrots, 2 C celery, 1 large onion, 1 medium parsnip, and 2 cloves of garlic. Add 1/2 tsp red pepper, salt and black pepper to taste. Cook on medium for about 15 minutes.
While the vegetables cook, remove the chicken from the bones and cut into bite sized pieces. Then add the chicken pieces and about 12 cups of the cooking liquid from the crock pot to the soup pot.  Add 2 C of broccoli florets and 2 C of chopped kale, bring to a boil, and simmer until the flavors are nicely blended.
The verdict: This is a hearty, healthy soup and you can use any vegetables you like. I've decided that I LOVE homemade soup, even though I rarely made it before cooking through this book.
This post linked to Frugal Friday at Life as Mom