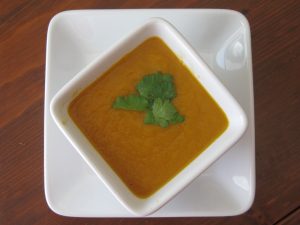 Carrots: Not just for veggie trays anymore! Souper healthy, souper good. (Get it? Soup?) Another home run from Simply in Season. I only had 1 1/2 pounds of carrots left, so I adjusted the quantities accordingly.
In a large soup pot, saute' 1/2 onion (chopped), 1 clove garlic, and a stalk of celery (chopped, optional) in a splash of olive oil until soft.
Chop 1 1/2 lbs of carrots (you can also substitute sweet potatoes or winter squash, but I HIGHLY recommend carrots!) and add to the pot along with 4 C (about a box) of vegetable broth and 1 1/2 tsp curry powder. I used sweet curry powder from Penzeys.
Bring to a boil, then simmer until the carrots are tender (about 20 minutes). Then get out the "boat motor," as DH and his friends like to call immersion blenders, and blend until smooth. Stir in a splash of lemon juice and serve with a dollop of yogurt or a sprinkle of cilantro leaves. I went for the cilantro.
The verdict: The smell was heavenly as it cooked, reminded me of my favorite Indian buffet. The taste was simply delicious, and I could feel my eyesight improving as I ate. I only wish I'd had more carrots from my winter CSA.