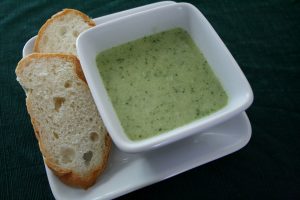 Last week since I was out of state I gave my CSA share for the week to someone else. So, I had the  unique experience of going to the farmer's market and buying whatever I wanted. Ha! I knew I would make this soup, since I usually only get one fennel bulb at a time at the CSA and this requires three.
FOR PRINTABLE VERSION CLICK HERE: Fennel Leek Soup
Source: Simply in Season
3 Tbs butter
6 cups fennel bulbs (chopped)
4 cups leeks (chopped)
2 cups vegetable broth
2/3 cup fresh spinach leaves, trimmed and torn
4 cups vegetable broth
salt and pepper to taste
1 tsp ground cumin
1. Melt butter in a large soup pot, add fennel and leeks and cook 15 minutes. Stir often.
2. Add 2 C broth, simmer 20 minutes, cool slightly. Puree.
3. Add the spinach and puree again.
4. Stir remaining ingredients into the pot and heat.
Servings: 6
Nutrition Facts
Serving size: 1/6 of a recipe (14.2 ounces).
Percent daily values based on the Reference Daily Intake (RDI) for a 2000 calorie diet.
Nutrition information calculated from recipe ingredients.
Amount Per Serving
Calories 278.85
Calories From Fat (32%) 88.61
% Daily Value
Total Fat 10.04g 15%
Saturated Fat 4.56g 23%
Cholesterol 17.73mg 6%
Sodium 1687.23mg 70%
Potassium 881.44mg 25%
Total Carbohydrates 41.42g 14%
Fiber 7.1g 28%
Sugar 2.34g
Protein 8.15g 16%
The Verdict: I LOVED it, but DH doesn't like pureed soups so more for me! The fennel flavor is really unique. I substituted Swiss chard leaves for the spinach and it made the soup a nice green color. A perfect fall lunch soup.
This post shared at Tasty Tuesday,  Slightly Indulgent Tuesday, Real Food Wednesday