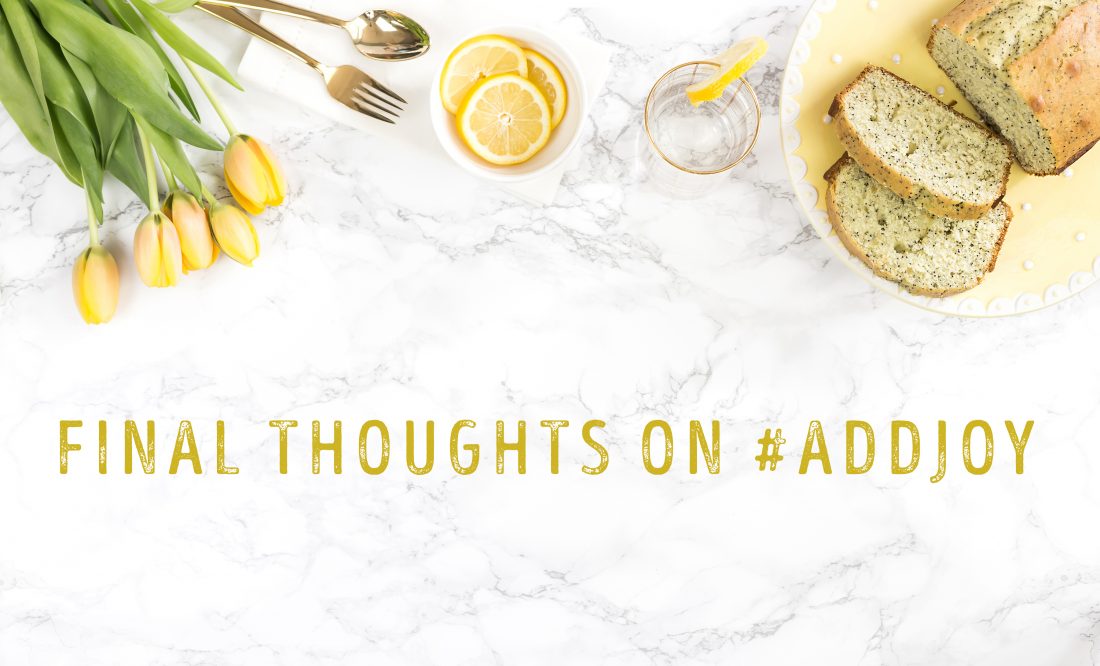 Today is our last day of the #AddJoy challenge, but I hope that you continue to practice finding small ways to add joy each and every day.
When I started this project, I had grand dreams of producing printables and all sorts of great content. I ended up having to be satisfied with just posting every day. Perhaps you're like me, a quick start ideas person. I constantly need to find the balance between chasing the next great idea and taking time to slow down and decide whether it's something that I have energy for. Overall, I'm glad I did this project. Although it did not go as in-depth as I'd have liked, it did get me in the habit of daily blogging and networking with other bloggers. I've had so much fun meeting new people and getting to know some others better.
I've also been able to focus my writing topics. I'm still feeling my way and figuring out what kind of balance I need personally. I find myself gravitating towards food blog posts because that's where I'm most comfortable. I cut my teeth in the blogging world as The Local Cook. But now, there is so much more to my life than an obsession with food. I love to run (never thought I'd say that!). I love the idea of being a lifestyle blog. Not the kind of lifestyle blog where people jet around and drink champagne, but a simpler lifestyle blog somewhere between the high life and living off the grid. Life to the fullest for the rest of us.
I feel like I'm in a good place with food right now. In fact, I am thinking about taking a nutrition course and will soon be offering a local, seasonal menu plan. May is the official launch but I may have some previews sooner.
I posted the above Face to Face Friday on Instagram last week. Some days I can't believe that was me! Other days I still look in the mirror and see the heavier me. It's a constant battle.
We have so many voices telling us that we are not enough, that we need to be more fit . . . more pretty . . . more Pinterest-worthy.
I'm here to tell you that YOU ARE ENOUGH.
You deserve to take some time for yourself each day. I don't have it all figured out. I have to tell myself that I am enough every day. Maybe, if we say it to each other, we will believe it. Not in a head knowledge kind of way, but in a heart kind of way.
Thank you for joining me in this journey.