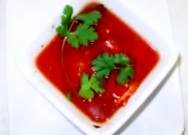 This soup was SUPER easy. One thing I love about the Simply in Season recipes, they are easy and lend themselves to adapting to whatever you have on hand.
Ingredients
8 tomatoes
4 cloves garlic, minced
3 cups water (or vegetable juice)
2 chicken bouillon cubes (or vegetable)
1 tsp sugar
snipped fresh basil to taste
Instructions
Chop the tomatoes and place in a pot on medium high.
Cook until the tomatoes are soft.
Add remaining ingredients, bring to boil, simmer for 5 minutes.
https://www.wholisticwoman.com/fresh-tomato-soup/
YUM! Dear Husband said "this is good! And I don't even like tomato soup."