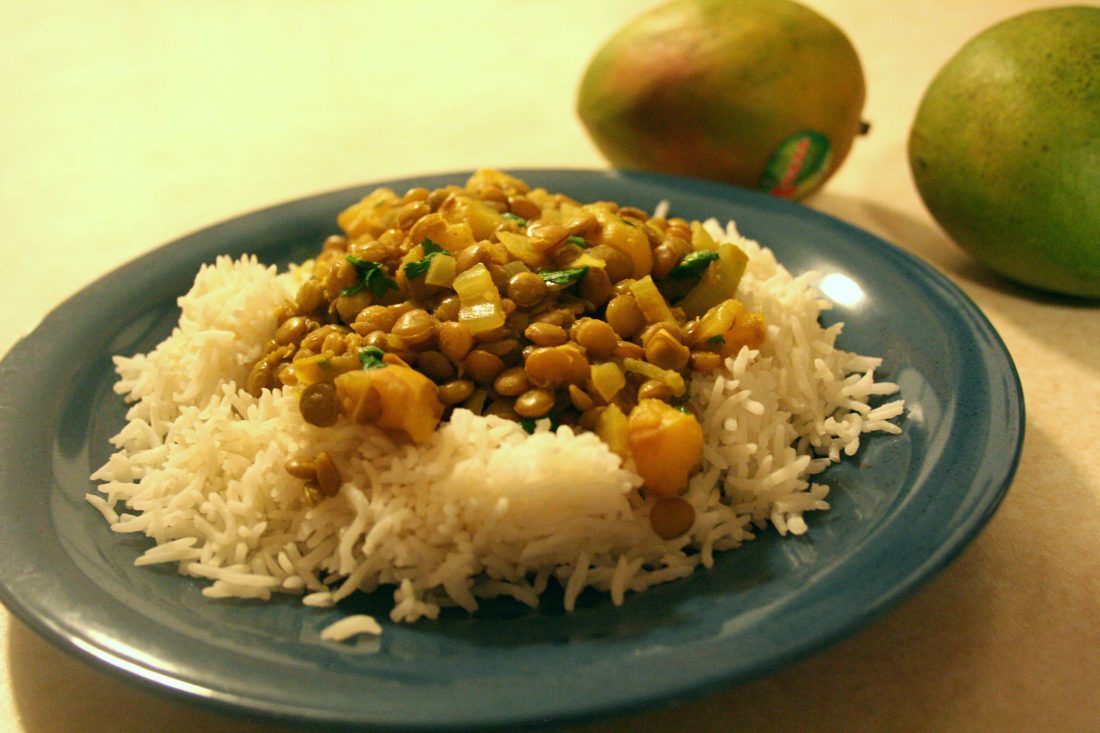 I forgot how nice it is to cook when one is not rushed. DH had an appointment after work so I put on my favorite apron, turned on Pandora, and set out the ingredients. I savored my time in the kitchen.
Recipe Source: The Simple Art of EatingWell: 400 Easy Recipes, Tips and Techniques for Delicious, Healthy Meals (EatingWell)
Ingredients:
1 cup yellow lentils, rinsed (you can also use regular lentils)

4 cups water
1 tsp salt, divided
1/2 tsp ground turmeric
1 Tbsp oil
1/2 tsp cumin seeds
1 medium onion, chopped
4 cloves garlic, minced
1 Tbsp minced fresh ginger
1/2 tsp ground coriander
1/4 tsp cayenne pepper
2 mangoes, peeled and diced
1/2 cup fresh cilantro
Directions:
 Combine lentils, 4 cups water, 1/2 tsp salt, and turmeric in a large saucepan. Bring to a boil, reduce heat to a simmer, partially cover and cook for about 15 minutes. Stir occasionally.

Meanwhile, in a large skillet, heat a little oil over medium and cook the cumin seeds until fragrant. Add the onions and cook for five minutes. Add remaining ingredients (except mangoes) and cook for another minute.
Stir the garlic mixture and mangoes into the mixture; return to a simmer and cook until the lentils fall apart, about 15 minutes  more. Stir occasionally. Stir in cilantro before serving.
The Verdict: Served over basmati rice, this was delicious! I simply adore the Indian spices – so does DH. I love how it makes the whole house smell yummy. While DH thought it could use some meat (of course), I rather liked not having to get something out to thaw.
This post shared at Fight Back Friday, Tempt My Tummy Tuesday