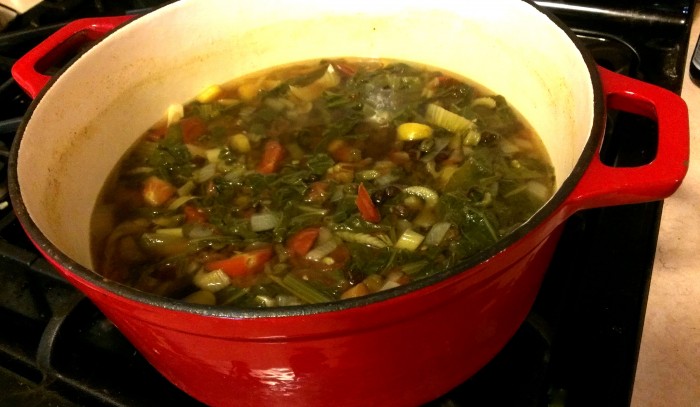 Yes, another soup recipe. I find myself making soup at least once a week this time of year. I found this recipe for Lentil Soup with Mustard Greens through my CSA, who found it through elisebakes, who is now blogging at Paint Chips and Frosting. I love how it uses an entire bunch of mustard greens – I'm always looking for recipes that use up the greens that I get from my CSA!
Ingredients:
a splash of olive oil
1 clove garlic, finely chopped
1-2 small onions, chopped
1 small bunch carrots, chopped
1 cup chopped celery
2 cups tomatoes, diced
1/2 tsp oregano
1/2 tsp cumin
1/2 tsp salt
1/2 tsp pepper
1 3/4 cup dried lentils, rinsed
9 cups water or stock
4 cups mustard greens, stemmed and torn
Directions:
In a large stock pot, saute the onions in a bit of oil until translucent. Add the garlic and saute a bit more.
Add water and the rest of the ingredients; bring to a boil.
Reduce to low, and simmer 30-35 minutes or until the lentils are tender.
The Verdict: Confession time. I thought I was using lentils, but after I dumped them in the soup, I realized that the label said GREEN CHANA. A quick internet search showed that rather than quick cooking lentils, I mistakenly used dried chickpeas. Hmmm. I let it simmer about an hour and the chickpeas were definitely still chewy. I was so hungry that DH and I decided to eat it anyway. I could have used less of them, but the soup overall still tasted great. That will teach me to better label things when I go to the Mediterranean market and buy various dried beans and peas!