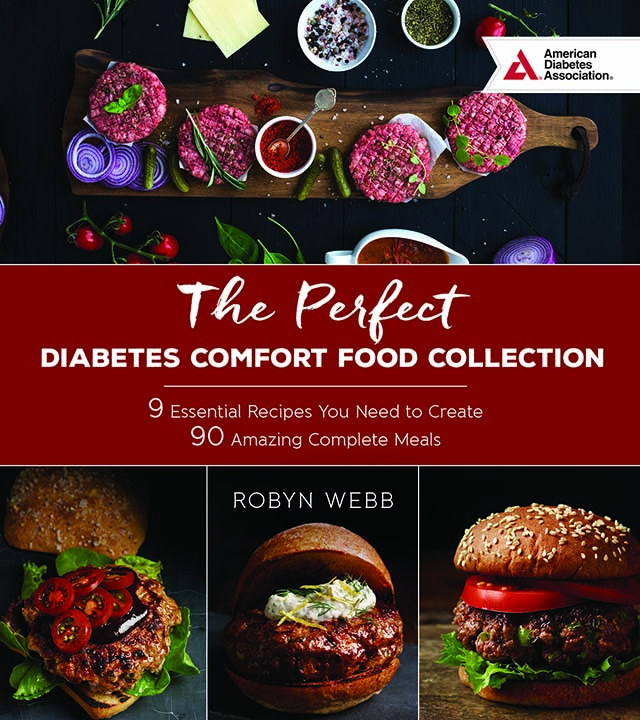 I've been thinking a lot about diabetes. One of the reasons I decided to have weight loss surgery was because my blood sugar levels came back as elevated during  routine bloodwork. One more check and I'd be considered pre-diabetic. My levels are fine now that I'm at a healthy weight, eating better and exercising regularly, but it's always in the back of my mind because my grandmother had diabetes and my mother had it (now controlled by diet and exercise).
I was recently trained by the National Kidney Foundation as a Lifestyle Coach in their Diabetes Prevention Program. There I learned that if current trends continue, it is estimated that 1 in 3 U.S. adults will have diabetes in the year 2050 compared to 1 in 10 today. Yikes! So when I was asked to participate in the blog tour for The Perfect Diabetes Comfort Food Collection, I jumped at the chance.
This cookbook includes "9 essential recipes you need to create 90 amazing complete meals." I love that all the recipes are healthy and that it features  a meal-planning section that helps readers match a favorite comfort food dish with classic sides to create hundreds of complete, nutritionally balanced meals designed to help control blood glucose levels and promote heart health.
The basic premise is that  nine favorite comfort foods (lasagna, meatloaf, burgers, stir-frys, tacos, main dish stews and soups, entree salads, chicken, and pasta) are most people's go-to dishes and that by learning healthy versions of each, 10 variations of them can provide 90 complete meals. The recipes are flavorful yet approachable for most people. I was pleased to see a recipe very similar to one I love to make in the summer.
Now, you might be thinking, "Pasta? Lawdy, the carbs!" If you are watching your carbs, I highly suggest checking out the many protein pastas that are out there, or learn how to make zucchini noodles. Now, on to the recipe. It's the perfect vehicle for summer vegetables–feel free to add whatever you have. Also feel free to use a more basic vinegar and oil dressing (break out the flavored vinegars and oils for incredible flavor) or even substitute pesto for the dressing.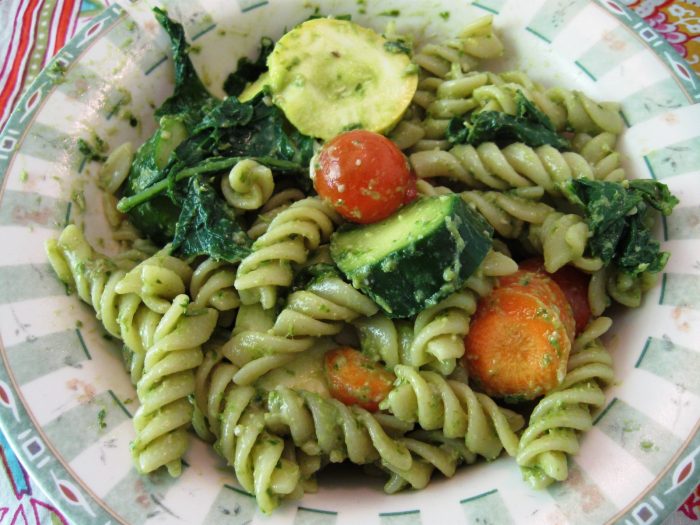 MASTER PASTA SALAD
Serves: 12 | Serving size: 1 cup
Prep time: 10 minutes | Cook time: 8 minutes
Here's your blueprint for a pasta salad, but feel free to experiment with the ingredients and see what you like. Choose an herb or champagne vinegar instead of red wine vinegar. Use orange juice instead of lemon juice. Add small blanched broccoli or cauliflower florets. Pack this salad into a container and tote along for a picnic. Since there is no mayonnaise used in the recipe, the salad stands up well in transport.
8 ounces dry whole-wheat shaped pasta
2 teaspoons olive oil
DRESSING
3 tablespoons fresh lemon juice or red wine vinegar
1/4 cup plus 1 tablespoon olive oil
1 garlic clove, minced
1/4 teaspoon sea salt
1/4 teaspoon freshly ground black pepper
VEGETABLES AND HERBS
1 small yellow or orange pepper, thinly sliced
1/2 pint cherry or grape tomatoes, halved
1/4 cup torn basil leaves
1 small shallot, minced
2 tablespoons torn mint leaves
2 tablespoons minced fresh parsley
Bring a large pot of lightly salted water to a rolling boil. Add the pasta and cook for 7–8 minutes or until al dente. Drain and add to a bowl. Immediately mix with olive oil, cover, and set in the refrigerator until cooled down (it may still be a bit warm, but that is OK).
Whisk together the ingredients for the dressing in a large bowl. Add the vegetables and herbs to the bowl and gently mix. Add in the pasta and mix. Let the pasta stand for 30 minutes prior to serving.
CALORIES 130
CALORIES FROM FAT 60
TOTAL FAT 7.0 g
SATURATED FAT 0.9 g
TRANS FAT 0.0 g
CHOLESTEROL 0 mg
SODIUM 75 mg
POTASSIUM 95 mg
TOTAL CARBOHYDRATE 16 g
DIETARY FIBER 2 g
SUGARS 1 g
PROTEIN 3 g
PHOSPHORUS 50 mg
EXCHANGES/CHOICES:
1 Starch; 1 Fat
©2016 by Robyn Webb. Reprinted with permission from The American Diabetes Association.