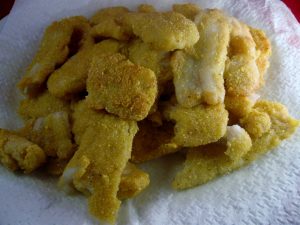 I can't let a week about pan frying go by without talking fish. Growing up, freshly caught perch, bluegill, and crappie were a staple; usually beer battered in Drake's. Whenever my Dad gives me some of his extra catch, I make this from-scratch version from James Beard's American Cookery.
Ingredients:
fish, about two pounds (if you have a very kind father like mine, he will fillet it for you)
1 1/2 tsp salt
1/2 tsp Tabasco (I used Sriracha)
1/2 C milk
1/2 C flour
3/4 C cornmeal
oil and butter or something to fry it in (I used organic palm oil)
Directions:
In a large frying pan, melt shortening/butter, so it's about 1/4 inch thick.
In a flat-ish bowl or pan, mix the salt, Tabasco, milk. In another bowl put flour. In a third bowl put the cornmeal.
Dip the fillets in the milk; then the flour; then the milk again; then the cornmeal. I find it easiest to bread them all while the pan is heating, placing them on a cutting board.
When the oil is hot, fry on each side until cooked through. I was sort of scared at this point, because I have never made fish before and while I'm terrified of undercooking meat, I also knew I had to be careful that it didn't dry out. I somehow managed to find that nice balance; when the fish that I could see between the breading was white and it started to flake if I didn't turn it carefully enough, I knew it was done.
The Verdict: I'll be honest, it's not as tasty as when made by my Dad with his beer and Drake's; however it is definitely edible with some ketchup and I'll bet you could even get kids to eat it. Some recipes are just better when made by your mom or dad, ya know?
This post shared with Kitchen Tip Tuesdays, Hearth and Soul, Works for Me Wednesday, Tempt My Tummy Tuesday, Ultimate Recipe Swap