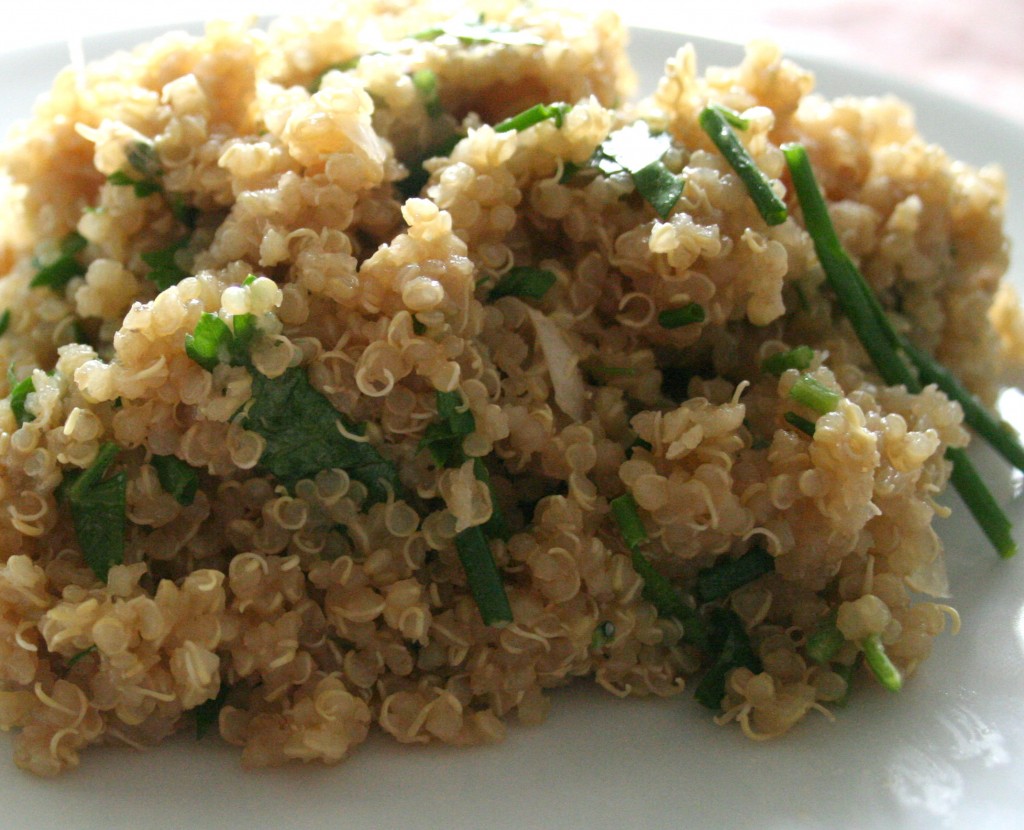 Earlier this week I posted a recipe for green rice; today I'm posting a midwestern version of green rice for which I substituted quinoa.
I'm a huge fan of quinoa. It's a protein powerhouse. So when I saw this recipe, I thought of all the herbs growing in my front yard and decided to give it a try.
 Source: Adapted from Prairie Home Cooking: 400 Recipes that Celebrate the Bountiful Harvests, Creative Cooks, and Comforting Foods of the American Heartland (America Cooks)
Ingredients
2 Tbsp butter
1/4 cup onions, chopped (can use green onions)
1 cup uncooked quinoa
2 cups chicken stock
splash Worcestershire sauce
1/2 tsp garlic salt
1/4 cup chopped fresh parsley
1/4 cup snipped fresh chives
Instructions
Rinse quinoa if package does not indicate that it's already rinsed.
In a large saucepan, saute the onions in the butter until soft. Add quinoa and stir to coat.
Add chicken stock, Worcestershire, and garlic salt, stir, bring to a boil; cover, and simmer for 15 minutes or until the little coily things pop out.
Let rest at least 5 minutes, then stir in the fresh herbs.
https://www.wholisticwoman.com/parsley-chive-quinoa/
The Verdict: DH said, "Wow! I never had flavorful quinoa before!" Indeed, it was very flavorful and went great with the barbecued grilled chicken and asparagus that rounded out our dinner. I will definitely be  making this again.
This post shared at Monday Mania, Simple Lives Thursday, Tempt My Tummy Tuesday