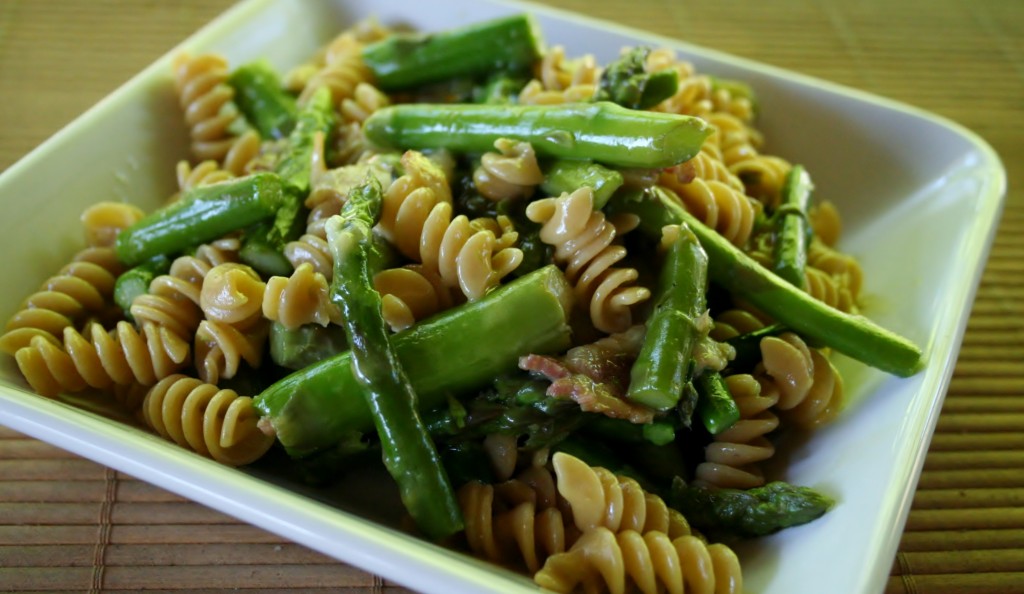 I picked up 3 pounds of asparagus at the farmer's market on Saturday, intending to bring it to my Mom & Dad's for Sunday lunch. I had forgotten that my Dad has it in his garden. Oops. So now DH and I have to figure out how to eat 3 pounds of asparagus, which won't be hard. Tonight I made this main dish from The Food Matters Cookbook by Mark Bittman.
FOR PRINTABLE VERSION CLICK HERE: Pasta with Asparagus, Bacon, and Egg
2 Tbsp olive oil
4 ounces bacon, chopped
1 1/2 lb asparagus, cut into 2 inch pieces
8 ounces whole wheat pasta shells or ziti
2 eggs
1/4 cup Parmesan cheese (freshly grated)
salt and pepper to taste
1. Bring a large pot of water to boil and salt it. In a large skillet, put the oil and bacon and cook on medium heat until the bacon browns and softens.
2. About 5 minutes later, add the asparagus to the skillet with the bacon and raise the heat a bit and cook to desired doneness (5-10 minutes). Cook the pasta to desired doneness.
3. Meanwhile, warm a large bowl and beat the eggs in it. Stir the bacon (along with the drippings) and asparagus into the eggs.
4. Drain the pasta and add to the asparagus mixture. Add parmesan cheese and black pepper.
Servings: 4
Total Time: 30 minutes
The Verdict: Mark Bittman didn't steer me wrong. I was a bit nervous about how the raw egg would work, but it made a delicious sauce. It was nice and hearty, and earned DH's stamp of approval. Best of all, the eggs, bacon, and asparagus were all from the farmer's market. Had I known I was going to make this recipe, I could have gotten the pasta, too.
Nutrition Facts
Serving size: 1/4 of a recipe (7.9 ounces).
Percent daily values based on the Reference Daily Intake (RDI) for a 2000 calorie diet.
Nutrition information calculated from recipe ingredients.
Amount Per Serving
Calories 483.17
Calories From Fat (46%) 221.93
% Daily Value
Total Fat 24.81g 38%
Saturated Fat 7.2g 36%
Cholesterol 130.53mg 44%
Sodium 372.92mg 16%
Potassium 397.73mg 11%
Total Carbohydrates 47.01g 16%
Fiber 3.52g 14%
Sugar 2.14g
Protein 18.31g 37%
This post shared at Tempt My Tummy Tuesday, Slightly Indulgent Tuesday, Real Food Wednesday,  Hearth and Soul, Pennywise Platter Thursday, Frugal Food Thursday, Foodie Friday