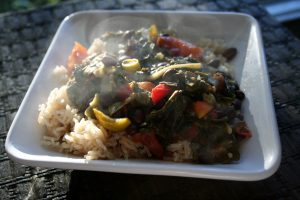 So I was standing in line at CSA pickup tonight STARVING. For breakfast I had a half cup of granola and some raw milk. Lunch was a leftover piece of grilled KFC and about half a cup of leftover vegan chili from lunch out the other day. I've been eating crappy the past few days as I never did get around to meal planning and have had some late nights at work and whatnot. Pizza crossed my mind . . .
and not even good pizza. The $5 pizza from you know where. As I was picking up gorgeous chard, beets, lettuce . . . my body was craving good food. Real food. But I hadn't meal planned. I really wished I knew how to cook. I mean, Anja (the CSA co-owner) could probably whip up an awesome lentil soup or chard something or other over rice with one hand tied behind her back. Real cooks have recipes in their heads, or don't even need a recipe. Me, I've been at it a few years and I still can't pull something out of nothing. Except . . .
Maybe it's a time of month thing. Earlier this week I was craving chocolate. And bread. But now, I was craving something wholesome. So I drove home without stopping at the pizza place. I thought about what I wanted. Brown rice and Swiss chard. Yum. Maybe some black beans. I do love black beans. I Googled "black beans chard rice." Soup? No. Oh wait, what's this? Black Beans with Chard over Rice? I printed it out and got out my pen.
Rice? Check. I started the rice cooker. Only in the past year I realized I don't need the pamphlet because there are markings on the rice cooker with the numbers 1, 2, 3, and if you put one "special" cup–the one that came with the rice cooker–in it you just fill the water to the line marked with the 1. And two for 2, and so on. Anyway, I needed to get that going so I set it.
Back to the recipe.
Let's see, 1 onion, chopped. Nope, fresh out of onions. I did get some scallions at pickup tonight. Oh wait, I had some leek remnants left over from a few days ago. Into the frying pot it went with a splash of oil. Medium temp sounded good. I also chopped up the garlic cloves (the recipe called for 2. I used 3. They were frozen, the ones from Costco. But at least it was garlic. You really can't go wrong with garlic and something onion-y, ya know?)
Let's see, 1 tsp ground cumin. Yeah, a dash from the shaker will do. Why dirty a tsp?
I went back to the recipe and realized it called for half a bunch of cilantro. I had no cilantro. Fennel? Basil? No, that really doesn't go with the whole Mexican-flavor thing going on. So I decided to add a chopped red pepper that I had received at pickup.
Bear in mind, I'm not really timing anything, just throwing stuff in the frying pan as I get it chopped, stirring as I add. I realized that things were starting to stick so I jumped ahead to the can Petite Tomatoes and 1 can Tomatoes and Chilies. Except that I had just picked up some gorgeous fresh tomatoes at the CSA so why not just use those? I chopped up three and tossed them in. The liquid soon made things not so sticky so I decided to go back and chop the chard stems, since I know those take longer to cook than other things. Tossed that in the frying pan (which was starting to smell really good by that point).
Then I drained and rinsed a can of black beans (the recipe said two but I only had one. And yes, I know I should be making beans from dried–I have a bag of dried black beans in my pantry but that was not going to do me any good when the hungry monster is calling). Added that to the pan. Then I chopped the rest of the bunch of chard. I added that to the pan and covered and lowered the heat to a simmer.
Then I did a load of laundry.
On my way back upstairs from the laundry room I gave the frying pan a stir, and it smelled HEAVENLY. The rice cooker hadn't popped yet but I knew a good meal was coming soon. I added a few twists of freshly cracked salt and pepper. DH had left for brew club so it was just me. I decided to write about my experience because you know what? If I can do this, anyone can. Seriously.
No timer.
No measuring cups or spoons.
Only a loosely followed recipe (thanks HomeGrown organics, for having  a blog) that I adjusted to what I had on hand.
And fresh ingredients.
And a wee bit of know-how.
(VERY wee).
The Verdict: I'm very glad I didn't stop for pizza.