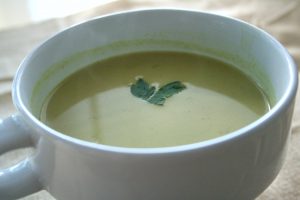 Soup in summer? Yes, after surviving the 105 degree heat wave, I figured I could handle it. Plus when I came across this recipe in The Feed Zone Cookbook: Fast and Flavorful Food for Athletes
, I remembered that I had a can of coconut milk in the cupboard and that this might be a good way to use it up.
Ingredients:
2 Tbsp oil
1-2 Tbsp curry powder
1 small onion, chopped
2 cloves garlic, minced
1 Tbsp jalapeno pepper, minced
1 cup coconut milk
1 cup red lentils, rinsed
3 cups water or chicken stock
Directions:
In a large stock pot, heat the oil to medium and toast the curry powder for a few seconds. Then add the onion, garlic, jalapeno, and coconut milk. Stir and let cook for 5 minutes.
Add lentils and liquid. Bring to a boil, then turn heat down and let simmer until lentils are tender, about 20-30 minutes.
Serve topped with yogurt, tomatoes, or cilantro as garnish if desired.
Kitchen Tip: If you remove the seeds from the jalapeno pepper, you get a nice flavor with very little heat.
The Verdict: It went together quickly, great for a weeknight. It smelled delicious but could have used a bit more curry powder. That curry powder, it always tricks me into thinking it's going to be strong tasting because of the smell but then it ends up being moderate in flavor.
This post shared at Real Food Wednesday