Today's New Year for a New You prompt is around how we spend our time. There is a cool pie chart thing you can do. However, I'm using this opportunity and topic of "time" to share about one of my latest obsessions . . . PLANNERS!
How it all began
For the past few months I have been spending entirely too much time and money on my latest obsession: Finding Planner Peace.
This new addiction started innocently enough. I was walking through Michaels (a dangerous proposition to be sure) and stumbled across a display of Happy Planners. At the time I had no idea they were Happy Planners. I just saw that they were old school paper planners with stickers. Stickers on planners? Whaaat? I mean, I had a few stickers in my Franklin Covey back in the day but this was a whole new level. [Side note: I actually dug through an old box and found them!]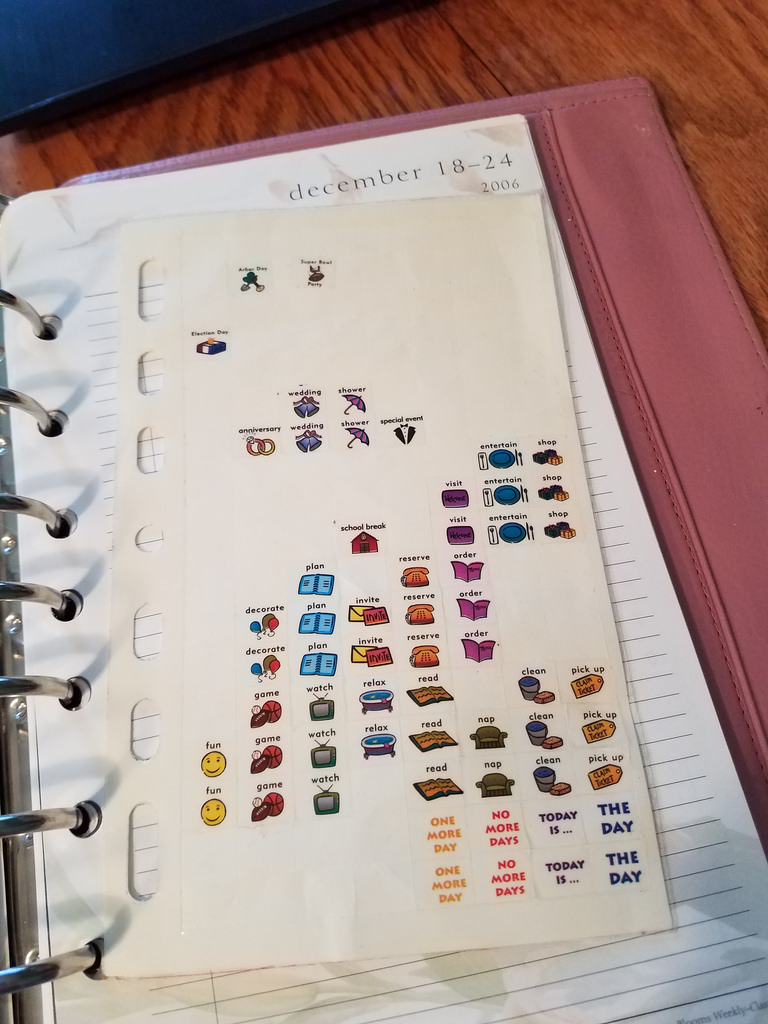 Now, there are lots of shiny objects at Michaels that I resist but here are a few reasons I think that this time I put a planner in my cart:
I had been doing Miracle Morning for a couple of months and wanted to incorporate journaling. I also realized that I needed to organize projects that weren't time-bound. I use my Google calendar for work but what about things that aren't an appointment?
I was working on cleaning up my diet but tracking calories in myfitnesspal was triggering binge eating. When I saw the Fitness Planner version, I thought it would be a great way to track what I was eating without freaking out about the numbers.
The stickers seemed fun, and I had been looking for a way to express my creativity that didn't involve long hours of scrapbooking or sewing.
I had a 50% off coupon burning a hole in my purse.
So the Fitness Planner came home with me. I wondered if I would be able to buy more stickers when I ran out of the ones that came in the kit (I know, I know, in hindsight I am laughing at my naivete). I Googled it and found myself falling down the rabbit hole that is the planner community.
Down the planner rabbit hole
An introduction to this strange new world
I call it a planner community because it seriously is its own world. It has entire Facebook groups, blogs, YouTube channels, Instagram feeds, "tribes," and even its own language. There are Etsy stores dedicated to printables, stickers, inserts, planner charms, cases, washi, and the like. People are fiercely dedicated to their planner of choice. Erin Condren seems to be the queen of this planner world.
A quick glossary:
HP: Happy Planner, an inexpensive planner found at lots of places including Michaels. Very colorful and has lots of stickers and accessories that you can buy.
EC: Erin Condren, a really expensive planner (compared to Happy Planner) but seems to have a cult-like following
Bullet journaling: Fewer stickers, more drawing. A whole system that you can read about here. And just for funsies, I've included the video below:
white space. Mostly using the space that comes with the planner. This is mostly white space: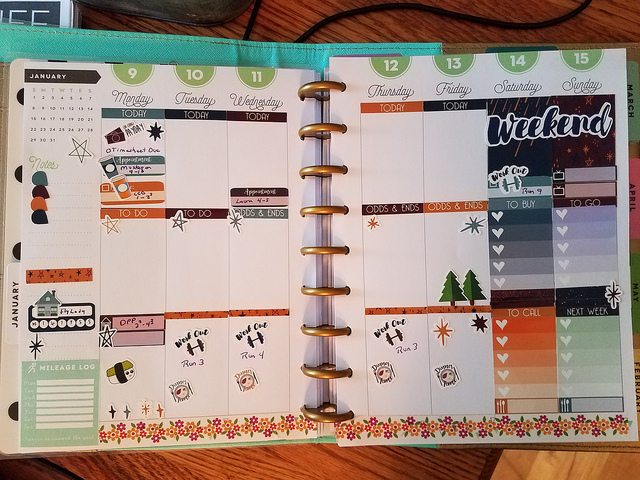 no white space: When you pretty much cover up the white space with stickers, like I did here: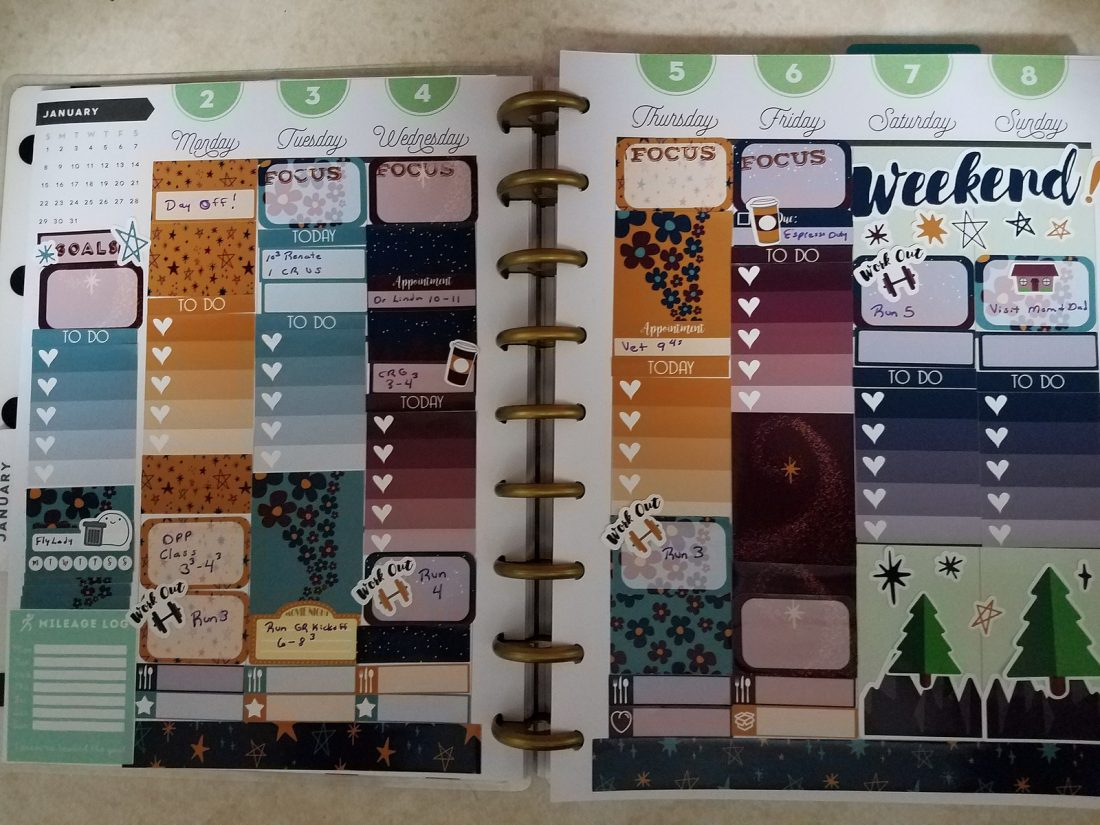 PWM: Short for Plan with Me, usually done in a video format. Here is the first one I ever did:
planner peace: That elusive combination of decor, functionality, and usefulness that is always just beyond reach. Planner nerds are always looking for the perfect planner! Here is my latest video, in which I describe how the struggle is real
washi: Semi-opaque tape that has a million uses. I had heard about this stuff even before the planner world, but now I have a reason to feed the addiction.
And if that isn't enough . . . you can also get into classes and challenges on handwriting and lettering.
And of course you can spend a lot of time searching for the perfect printables on Etsy . . . or design your own. As you can see what seems as simple as a paper planner–or spiral bound notebook, even–can quickly turn into a time and money suck. But it can also serve as a creative outlet.
So about the actual planning part
As I started getting lost in the tangled web of washi, stickers and YouTube videos, it suddenly occurred to me that  it would be really easy to lose the forest for the trees. In this case, I needed to ground myself in the whole fact that this is a PLANNER. So it should probably help me PLAN, yes? Not just be something to put pretty stickers on? (Although I suppose if that is your chosen art form there is nothing wrong with that).
After a few months of this, what have I learned? Has it actually helped me plan more than, say, just using my Google Calendar?
YES! Here's why:
Getting away from the computer screen: I keep all of my appointments in Google calendar. It's required for work. We share calendars with coworkers and have multiple calendars for everything from travel arrangements to office coffee duty. I also share my calendar with my husband so that during times when I have a heavy travel schedule he knows when I will be out of town. But the thing about focusing on individual appointments is that it's easy to lose track of the bigger things. Like, what goes on when I'm NOT in a meeting? What is the bigger picture?
That's where the paper planner comes in handy. You can start with the monthly view. Let's see, what are my primary goals for this month? What are the really big things that deserve to go on those little squares?
Then, on to the weekly view. I usually open up my Google calendar for reference and then figure out what my priorities are for the week. Sometimes they get a special sticker. For example habit trackers are great for keeping your priorities front and center. In my personal life, I am really focusing on housekeeping (to develop a more calm environment) and my marathon training. So I have a habit tracker in the sidebar where I can see at a glance how I'm doing. Plus, it is so satisfying to be able to put a check mark! It's like a gold star for adults.
In addition to allowing me to prioritize, I find that the act of writing things down helps me remember to do something. It's weird, but take something as simple as a grocery list. I used to keep it in my phone. Now I keep it on a sticky note in my planner. Even if I forget the sticky note in the car, for some reason I can usually remember what I wrote on it. And if DH is heading to the store I can just hand him the sticky note.
That's not to say that I don't do ANY planning electronically. In fact most of the planning I do for my 8-5 job is done through Evernote, Basecamp, and Google docs. In fact if you have to juggle multiple projects and documents with lots of collaborators I highly recommend the setup guides from Getting Things Done.
In conclusion
In conclusion, after immersing myself in the planner world for a few months, I can see why it's such a huge trend. It's a creative outlet, a community, and a way to get more organized all in one. And that elusive planner peace? I think it speaks to how busy our world is. It's important to remember that no matter what planner we use, we all only get 24 hours in a day. How we choose to use those hours is up to us.
Which takes me back to the original prompt from the New Year for a New You series. You don't need a planner to do this exercise:
1. What are your main priorities in life (i.e., family, profession, marriage, personal wellbeing, etc.)? List them in order of importance.
2. Use the graph above to chart how you invest your time during a typical 24-hour period. (This graph and exercise are an excerpt from Your Best Year 2017. You're welcome to draw your own graph or print the image above).
3. Does your time chart (where you're spending your hours) reflect the priorities you listed in question 1, and in the correct order?
4. How might you rearrange your schedule for better results?
After doing that exercise in the workbook, I was able to use my planner better in order to focus on my priorities. That's why you'll see focus and goals sections in my planner. Just a note, most paper planners have samples available online, so you can print off a few pages and try them for a few days to see if they work for you.
Do you have any planning or time management tips? Please share in the comments below!
P.S.
Subscribe to my YouTube channel to follow my journey to planner peace
If you like the stickers you've seen in my planner, you can get some of your own at Oh, Hello Stationery Co. Use coupon code CREATE10 for 10% off!