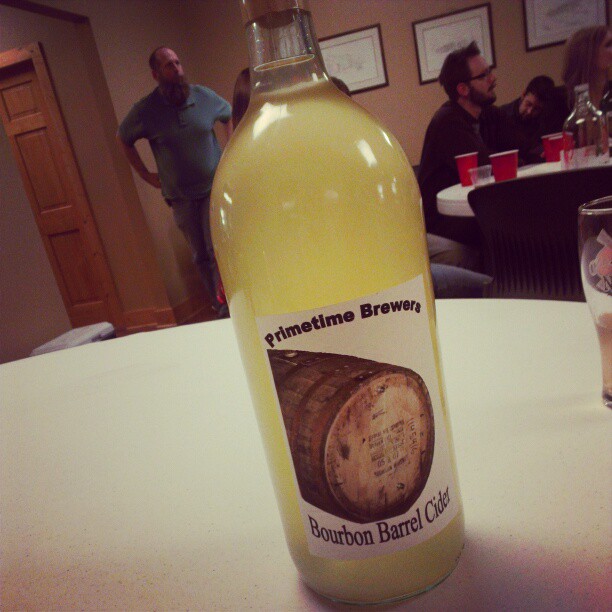 I'll bet you can guess the secret ingredient by the photo! Since roasts don't photograph that well, I decided to just post a picture of the locally brewed Bourbon Barrel Cider that I used in last night's dinner.
I found the original recipe at Allrecipes.com. Except I only had a small apple and thought it might not be enough apple flavor. I looked up and the cider was just calling me to be used.
Here's the recipe as I adapted it:
Ingredients: 
1 large splash of olive oil

venison roast (about 3 pounds; you could really use any kind of roast –beef, lamb, etc.)
1 large apple (cored and sliced)
2 onions (sliced)
4 cloves garlic (minced)
1 large splash of bourbon barrel cider (optional, could use any kind of cider or probably even apple juice)
Directions:
Splash the olive oil on the bottom of a slow cooker. I've been using slow cooker liners lately – not very green but sure makes clean up easier!

Place roast at the bottom.
Layer remaining ingredients on top, finishing with a nice big splash of cider.
Cook on low for 6-8 hours.
The Verdict: I love how slow cookers make the whole house smell good. When I told DH that I had used cider, he said, "oh, we're having pork?" Nope! The apple flavor is very good with the venison, although of course a lot of venison quality has to do with how it's dressed in the field. DH knows what he's doing. This turned out tender and tasty. I served it over some rice, but you could also make a gravy out of the pan juices. I especially liked the chunks of onion and apple. I'm weird like that.
this post shared at Simple Lives Thursday, Tempt My Tummy Tuesday