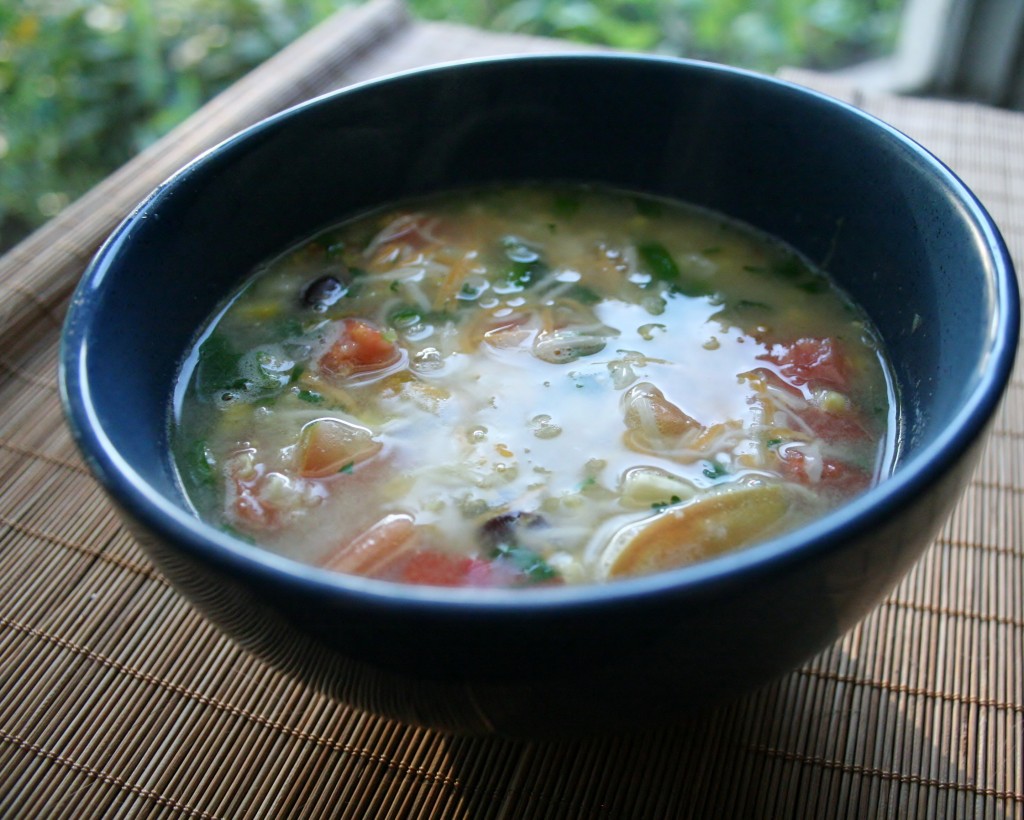 It feels great to be back in the kitchen! After a hiatus from Simply in Season, I'm motivated to tackle the remaining 54 recipes. This one is super fast, cheap, and tasty! Best of all, it features some of summer's best vegetables.
FOR PRINTABLE VERSION CLICK HERE: Southwestern Corn Chowder
Source: Simply in Season
1/2 cup sweet onion (chopped; roughly equal to a small onion)
2 1/2 cups corn (roughly equal to 3 ears)
3 cups vegetable broth (I used chicken stock)
1 medium red bell pepper, cut into bite-size pieces (I used a green bell pepper since DH used the ripe one from the garden last night)
1 small tomato, diced (or large–who doesn't love extra tomato?)
1/2 lime
3 Tbs fresh cilantro (chopped)
1. Saute' the onion in 1T of olive oil until soft. Add the corn and broth and cook for 10 minutes.
2. Remove 1 C of the solids and 1/3 C of broth and puree until smooth. Return to pot. (Or, just swish an immersion blender around until some of the corn gets chewed up)
3. Stir in the pepper and tomato and heat another minute. Squeeze the lime into the soup and top with cilantro just before serving.
Servings: 4
Nutrition Facts

Serving size: 1/4 of a recipe (12.5 ounces).
Percent daily values based on the Reference Daily Intake (RDI) for a 2000 calorie diet.
Nutrition information calculated from recipe ingredients.
Amount Per Serving
Calories 454.94
Calories From Fat (6%) 27.58
% Daily Value
Total Fat 3.09g 5%
Saturated Fat 0.68g 3%
Cholesterol 1.85mg <1%
Sodium 1233.71mg 51%
Potassium 447.28mg 13%
Total Carbohydrates 99.24g 33%
Fiber 4.64g 19%
Sugar 3.74g
Protein 5.51g 11%
Tips

May add black beans or chicken for a heartier soup.
The Verdict: I added a can of black beans and sprinkled some cheese on top. Oh. My. Word. This was super tasty. It's hard to believe the calorie count is correct, because it's so chock full of vegetables and seems really light. Might need to calculate using a different program. I also added some salt and pepper to the broth since it seemed like it needed it. This meal was done in less than 30 minutes. Woo hoo!
This post shared at Pennywise Platter Thursday, Things I Love Thursday, Simple Lives Thursday, Foodie Friday, I'm Lovin' It, Fresh Food Friday, Frugal Friday, Fight Back Friday, Food on Fridays, Monday Mania