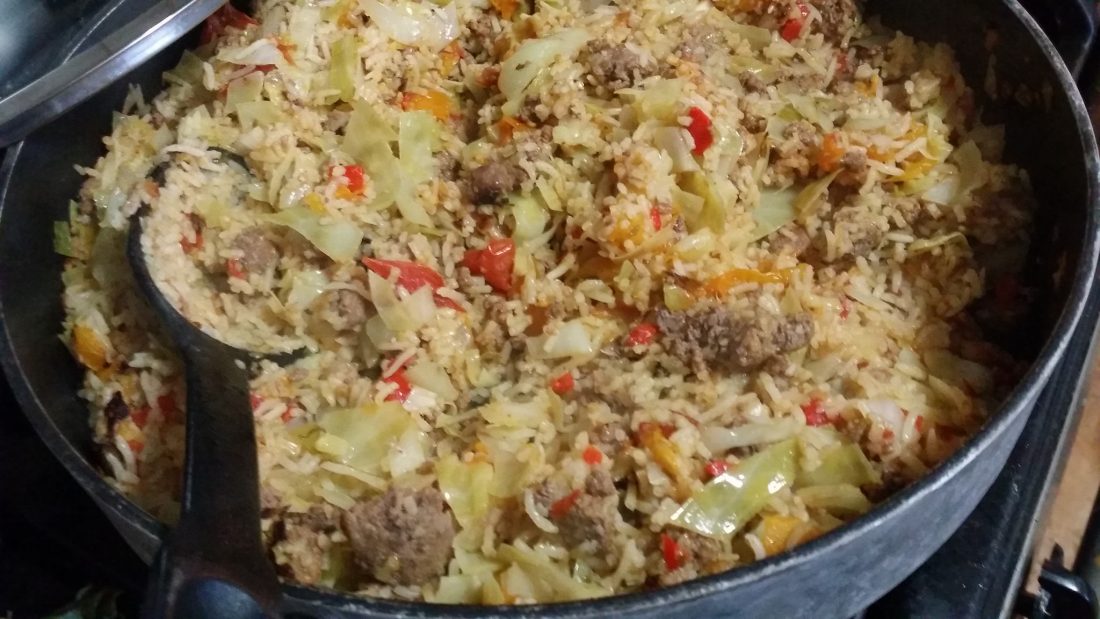 I was looking through some of my old posts and came across a favorite recipe for Harvest Bounty Rice that I had forgotten about. It's a super easy weeknight option that uses very common ingredients but is still tasty.
Ingredients:
1 lb ground beef, pork or venison
one medium onion (chopped)
one green pepper (chopped)
one hot pepper (chopped; optional)
4 cups tomatoes (you can use canned, I used a mix of tomatoes from my garden)
4 cups cabbage (shredded)
3 cups cooked rice
1 tsp salt
1/2 tsp oregano
1/2 tsp basil
1/2 tsp garlic powder
1/2 tsp cayenne pepper
Sriracha to taste
cheese (optional)
Directions:
Brown the ground meat along with the onion and peppers.

Add tomatoes, cabbage, rice, seasonings. Simmer 10-15 minutes.

Sprinkle cheese on top.
The Verdict:
I loved being able to use up some of the random cherry tomatoes from my garden. The whole dish went together super fast and was delicious. One note, I used the Gourmet Garden oregano, garlic, and basil pastes since I'm not getting fresh herbs from the garden anymore. I love the convenience!

From Simply in Season