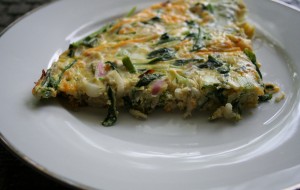 It's been awhile since I've made a frittata, and I knew that's how I wanted to use the broccoli rabe that I received in my CSA pickup. So when I stumbled on this recipe on the Eating Well website, I decided to give it a try since I also had spring turnips that I needed to use.
I ended up switching out some ingredients to better match what I had on hand, plus the directions seemed overly complicated so I simplified things. The frittata experts might be able to tell me why there were so many more steps in the Eating Well version. All I know is it turned out well for me.
Ingredients:
8 ounces broccoli rabe (trim off the woody stalk and then just chop into 1-2 inch pieces, stem and all. Some websites suggest boiling it before using in cooking, but I didn't find the flavor too pungent so I didn't do it. Plus I hate overly boiled or cooked greens.)
2 cloves garlic, minced
1/2 tsp salt
3 1/2 cups shredded spring turnips and/or radishes (I used the shredder blade on my food processor and used about half spring turnips and half radishes. I didn't have nearly enough turnips, and the flavor reminded me of radishes, so I decided to go for it.)
1/2 cup chopped onion (I used sliced green onions)
9 large eggs
1/4 cup low-fat milk
1/2 cup shredded fontina or Cheddar cheese
Directions:
Preheat oven to 425F.
In a large oven-safe skillet, add a splash of oil. Over medium heat cook the garlic and onions until fragrant; then add the salt, shredded turnips and broccoli rabe. Let cook until the turnips are well softened, stirring frequently.
Meanwhile, beat together the eggs and milk. Add the cheese.
Dump egg mixture on top of the vegetables and make sure it's evenly distributed.
Put the  whole shebang in the oven for about 15 minutes.
The Verdict: I was a bit nervous about whether the greens and radish and turnip would be too strong, but the cheese and eggs really mellowed everything out, leaving just a great flavor.
This post shared at Frugal Friday, Food on Friday, Grocery Cart Challenge, Friday Potluck