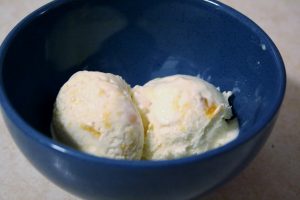 Since I had peaches, I decided to try the peach version of this ice cream recipe from Simply in Season. Best of all, there is no ice cream maker needed! Read on to learn how to make ice cream without an ice cream maker.
FOR PRINTABLE VERSION CLICK HERE: Strawberry or Blueberry Ice Cream 
3 cups berries (strawberries or blueberries OR PEACHES)
2 cups whipping cream (whipped to soft peaks)
1 1/4 cups sweetened condensed milk (here's how to make your own sweetened condensed milk)
1 cup cold water
6 Tbs sugar
1/2 tsp vanilla extract (almond extract if using peaches)
1/4 tsp salt
1. Chill all ingredients. In a mixing bowl, beat everything together with an electric mixer.
2. Pour into a 9×13 pan and freeze 3-4 hours or until mushy. Transfer mush to the mixing bowl and beat again until smooth but not melted. Return to 9×14 pan and freeze another 3 hours.
Servings: 8
Yield: 2 quarts
Nutrition Facts
Serving size: 1/8 of a recipe (6.1 ounces).
Percent daily values based on the Reference Daily Intake (RDI) for a 2000 calorie diet.
Nutrition information calculated from recipe ingredients.
Amount Per Serving
Calories 324.87
Calories From Fat (42%) 135.31
% Daily Value
Total Fat 15.39g 24%
Saturated Fat 9.52g 48%
Cholesterol 57.19mg 19%
Sodium 146.2mg 6%
Potassium 242.55mg 7%
Total Carbohydrates 44.2g 15%
Fiber 1.31g 5%
Sugar 40.93g
Protein 4.8g 10%
The Verdict: I accidentally put too much almond extract in, so that was a wee bit overpowering, but it was very creamy and sweet; just like ice cream should be! The texture was awesome. Who needs an ice cream maker? I can totally see using this with a wide variety of fruit.
This post shared at Food on Fridays, Foodie Friday, Friday Potluck, I'm Lovin' It, Frugal Friday