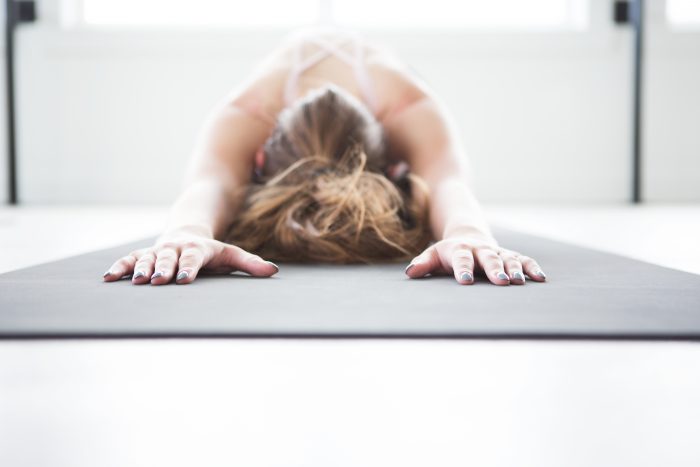 Although I still have races scheduled throughout the winter, many of my running friends are enjoying the off-season. Today I'm sharing a guest post from Chrissie Wellington, whose new book actually has me considering a triathlon!
Picture this. You've completed your A race. You've celebrated, partied and worn the finisher's T-shirt until it's threadbare. It's now approaching the time of year when the events section of the 220 Triathlon website is as sparse as toilet paper on race morning; your clothing has the words "long," "warmer," "fleece-lined" in the name and the shorts you have worn every day for the past year have started to reveal cracks that shouldn't be made public.
It's winter. It's cold. It's rainy. It's rainy and cold. It's cold and rainy. Good for ducks; suboptimal for triathletes. Luckily, this dismal meteorological state coincides with the end of the racing season. For many athletes, this means only one thing—"having it off." Any wife/husband/partner reading this might jump for joy at these three words (rarely used in the life of an exhausted triathlete). However, celebrations may be short lived. For I'm not referring to nocturnal gymnastics, but the so-called offseason: the period after your last race when triathlon goes from a hugely important focus of your life to having a back seat in day-to-day existence.
It sounds so easy to do. Stop or reduce the volume and intensity of your training, and instead see your non-tri friends or your spouse, spend quality time watching The Jeremy Kyle Show, eat food products whose labels don't begin with the word "energy" and celebrate the return of a non-chafed posterior. But, as the saying goes, if it were that easy we'd all be doing it. The reality is that too many athletes eschew time off and, instead, plough on with their usual training programme without even stopping to wash their Lycra.
Many triathletes—myself included—are creatures of habit; we love a regimen and we crave control (without sometimes realizing that the desire for control is actually controlling us). We are often fearful of taking a break from this routine, worrying over lost fitness and added waistline insulation and dreading the endorphin cold turkey. But listen loud and clear, folks. It is not the swim/bike/run sessions that will make you fitter—it's the recovery, the adaptation and regeneration from the stress caused by those activities.
The reality is that too many athletes eschew time off and, instead, plough on with their usual training program without even stopping to wash their Lycra.
And it is not just about physical recovery: it's mental rejuvenation too. Computer geeks tell me that, plugged in for long enough, eventually your laptop battery will wear out. Our bodies and minds are the same. We need to be unplugged in order to come back firing on all cylinders. The key to the off-season is to recharge not only your physical but also your mental batteries—leaving you invigorated, motivated and ready to give 100 per cent once more.
Often the fitter we become and more experienced we are, the greater our end-of-season recovery needs. It's like an interval session: the intense effort must be
followed by a proportional period of recovery/rest. I know it can be psychologically difficult, and we have to suppress self-destructive feelings of guilt or laziness, but know that this is NOT wasted time: it's a vital bedrock to success and longevity.
The first question I am often asked is how long this off-season should last. I used to take around four to six weeks after the Ironman World Championship. But it is really up to the individual. So much depends on your training volume, level of fitness and health, and your state of mind. One thing is for sure, though, there are much greater risks from having too little rest than a bit too much.
I would personally divide my four-to-six-week off-season into three stages: "unplugged"; then "a little bit of what you fancy does you good"; and, finally, "turn
it back on."
Unplugged
First, spend about two weeks doing absolutely nothing that resembles training. On the weekends, rather than meeting Lycra lovers for the five-hour smash fest, turn your alarm off, consume breakfasts with "fry" and "up" in the name, read a book (training bibles—aside from this one—don't count), wear clothes that flap in the wind, stay up after 9 p.m. (kebab shops are at their best after this time anyway). Joking aside, try not to gain more than a few kilograms, but definitely don't starve yourself as punishment for not training. Believe me, an extremely lean body is not always optimal year-round in terms of building and maintaining physical and immune strength.
Spend time honestly evaluating the previous season in all its multifaceted glory while it's still fresh in your mind: make a note of the good and bad; the highlights
and the lowlights; your strengths and weaknesses. Your logbook is a great place to start, but don't just focus on training and races—also think about wider lifestyle issues, like how much sleep you've been getting, the state of your relationships, what stresses you may have had in your life, how you feel at work.
Second opinions can be garnered from your coach, teammate, drinking partner. Then close the notebook and put it on the shelf with your training log to gather dust for a few weeks.
A Little Bit of What You Fancy
As much as you might have enjoyed becoming a couch-loving King Edward, once this initial period is over it's time to embark on the "a little bit of what you fancy does you good" stage. Introduce some activities to elevate your heart rate slightly. Variety is the key here. Maybe try a new sport. Lawn bowls, tiddlywinks, yoga, skiing/après skiing, table tennis, rock climbing, belly dancing, bog snorkelling— anything that will invigorate you and get the aerobic system firing again (engaging in the implied activity in this section's title may also do this). Team sports are a good antidote to the oft solitary nature of triathlon training. Dragon-boat racing could be amusing. The key is fun, unstructured and non-triathlon focused. Don't keep a log.
Don't wear a heart-rate monitor. Don't train. Exercise.
After a few weeks of spicy variety, you might a) realize that you much prefer bog snorkelling or b) have severe triathlon withdrawal symptoms. There is no harm in reintroducing swim/bike/run activities. Just keep it fun, unstructured and low in intensity. You don't have to get up for the 5.30 a.m. swim session. Try different
strokes. The lifeguards are on hand should you drown attempting 25m butterfly. Take the dog for a walk. Poop-a-scooping adds that extra bit of flexibility work. Go running. But leave the all-singing, all-dancing, wrist-based computer at home. For example, I spent the end of the 2008 off-season in Argentina. I went for a friend's wedding, arriving at the nuptials in my cycle kit having biked all day to get there. We then spent their luna de miel—or honeymoon—cycle touring around and across Andean mountains that had never even seen a bike—and for good reason given we had to skid across glaciers, cross rivers and push over rocks. It wasn't training, but kick-started my body and was the making of my 2009 season.
At this stage I would also see a physio. A biomechanical assessment helps highlight strengths and weaknesses, with your kindly physio prescribing gym exercises
involving the words squat or downward dog. You don't have to start them right away, but the early season is a great time to build structural and functional strength. Also take a look at your equipment. For example, a year of saddle sores indicates a bike fit may be needed and now's the time to do it.
You can then dust off those books and start to think about next year's goals, again sitting down with your coach, friends and family to make sure their views are taken into account. After all, none of us get to the finish line alone, and significant others should be involved in our journey from the outset. What changes would you like to make? What weaknesses do you want to address? What places do you hope to visit? What would you like to achieve?
Turning it Back On
After a transition period of two to three weeks, re-inject some structure. Remember, your body has undergone many physiological adaptations and needs to be nursed back. You cannot pick up exactly where you left off, in either volume or intensity.
Focus on developing a sound structural base (which means following the prescribed "single-legged" squat programme); start gently and avoid grunting. Think about doing drills to improve your swim, bike and run technique, giving yourself time to develop the skill-specific strength early on. Initially your swim, bike and run programme should focus mainly on aerobic base training. After a few weeks—unless you are a beginner—inject a few higher intensity efforts to kick-start the body. Resist the urge to punish yourself for time spent "detraining." Be patient. I would start with one to two weeks at 50 per cent of the volume you were doing before your time off, then go to 75 per cent and by three to four weeks you will be back at normal volume.
Yes, it will hurt. You'll doubt your ability to run for the bus, let alone 10km. You will compare yourself unfavourably to others. Your motivation may even have waned. Be kind to yourself. Your body will return to its former glory, you won't be beaten in the pool by that 90-year old breaststroker and you will develop a taste for tuna pasta rather than tubs of Ben & Jerry's Phish Food.
And when you wonder, "Will I ever get fit again?," trust that the answer is yes. In fact, not only will you get fit again, the obligatory off-season will make you faster, stronger and more resilient. So, here's to having it off during the wintery triathlon
barren spell. And enjoying it!
Chrissie Wellington is a British Triathlete and four time World Ironman Champion (2007, 2008, 2009 and 2011) and author of a new book, To the Finish Line, which you can preview below.